OK I still get alotta msgs asking me how I did my fuel line setup.Maybe a write up will help reduce them
AN sizes can be kind of confusing at first, since all they say is -5,-8,-10, and so on.
Well they go in increments of 16th of an inch.
So for example, -4an = 1/4", -8an = 1/2".
I like to add 16 at the end and go from there, like this - 4/16=1/4", -6/16=3/8", -12/16=3/4"
The factory steel fuel lines are 8mm, or about 5/16". So -5an fittings work perfect.
The list below is what I used so I could run -6an braided lines,fuel rail,filter,and fittings with stock lines-
Earl's -5an tube nut,pair - EAR-581805ERL

Earl's -5an tube sleeve,pair -EAR-581905ERL

Earl's -6an to -5an reducer(2 req) - EAR-991907ERL
Summit® 37 Degree Flare Tool Set - SUM-900311
*NOTE-The summit flaring tool is the cheapest you'll find that can do the proper flare for AN fittings. The best one you can get that isn't super expensive and can do stainless steel tubing is made by Rigid. It goes for a little over $100 if you shop around. It is used in the aircraft industry meaning it's good enough for your 240SX.
*A good tubing cutter from any auto parts store. I prefer the kind that are made completely from metal,not plastic.
When you cut tubing make sure to deburr it,inside and out. I used a small round file for the inside and a flat one for the outside.
Also I like to use a little bit of oil when flaring tubing and assembling the hose ends to the braided hose.Gear oil is what I had sitting around so I used that.
Then slip on the -5an tube nut and sleeve BEFORE you flare it!!!
*Make sure you have enough room to slip the sleeve back far enough so you can put the flaring tool on.Also it has to be square to the tubing or your flare will be off and may have to redo it.
* The tube has to be flush with the tool or it may create problems when you tighten your fittings.
It should look kinda like this when done-(thnx ms paint!)
This is the end result after doing both feed and return
From here on you can run whatever fuel system components you wish.
This is what I used when I pieced my setup(with pt #s)
4 90* -6an hose ends (SUM-220687)
3 straight hose ends (SUM-220690)
1 45* hose end (SUM-220686)
6 ft SS braided -6an hose (SUM-230606)
4 -6an straight cut o-ring to -6an male (SUM-220166)***2 were supplied already with fuel rail, the other 2 are needed for the regulator***
1 External Hex Head Port Plug with O-Ring Seal, -6 AN (EAR-581406ERL)
1 System 1in-line fuel filter, -6an (SOF-200-201406)
1 Aeromotive A1000-6 Adjustable FPR (AEI-13109)
1Aeromotive Fuel Pressure Gauge (AEI-15633)
2 Earl's Performance Cushioned Hose Clamps*sold in pairs*(EAR-171032ERL)
1 AMS/Turbo240.com -6an Fuel rail
4 MSD/Delphi 75lb injectors
All but the injectors and fuel rail were purchased from summitracing.com
What it looks like when it comes together-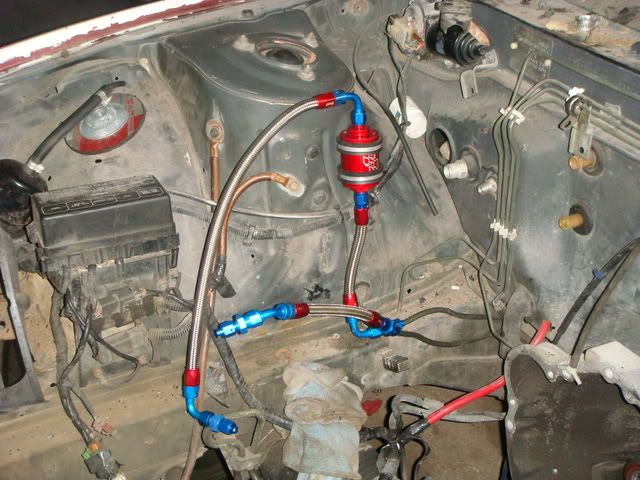 There you have it ppl.I feel this is a "more proper" and safer method than running compression fittings.I know other ppl have used them before,but I try to stay away from them as much as I can.
Any questions,post here
Good luck and have fun!