This is for you s14 guys that choose to go the Emanage Ultimate route. The EMU is a great tuning system with realtime data logging, realtime recordable maptracing, and I/j and ignition timing adjustments.
EMU allows you to tune injectors and ignition timing via a map sensor! This is great stuff.
What you need for a good reliable EMU system:
Emanage Ultimate system (comes with software)
EMU harness kit
Greddy Pressure Sensor (or boost controller that uses the same pressure sensor)
Greddy pressure sensor harness
Installing the EMU is not that difficult, but should not be done unless you fully understand the wiring schematics.
First you need to setup the jumpers in the Emanage ultimate.
Here is what the board will look like when you get it out of the case: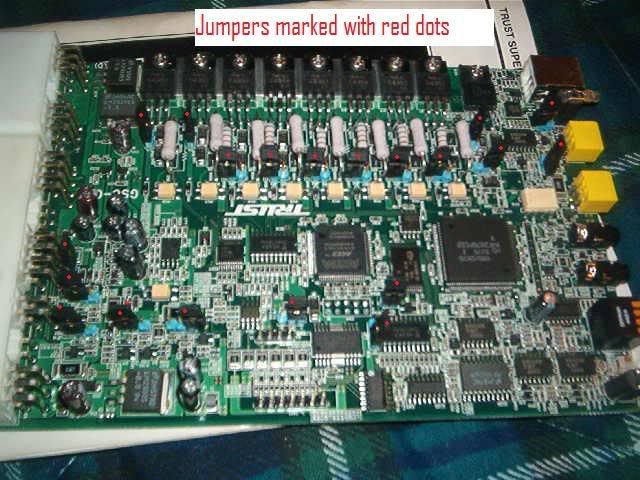 This is how I have my jumpers set:
Jp1: open jp4: open jp7: 1-2 jp10: 2-3 jp13: open jp16: open jp19: 1-2
Jp2: open jp5: open jp8: 1-2 jp11: open jp14: open jp17: 1-2 jp20: 1-2
Jp3: open jp6: open jp9open jp12: open jp15: 1-2 jp18: open
Some of these jumpers don't matter what you put them on, but this is what I have setup and my setup works flawlessly.
Wiring in the EMU is not too difficult, but it is tedious. I have made some diagrams that will work for both obd1 and obd2 s14s. (wiring is color coded properly for obd1 s14 to my knowledge)
Mass airflow wiring
Injector wiring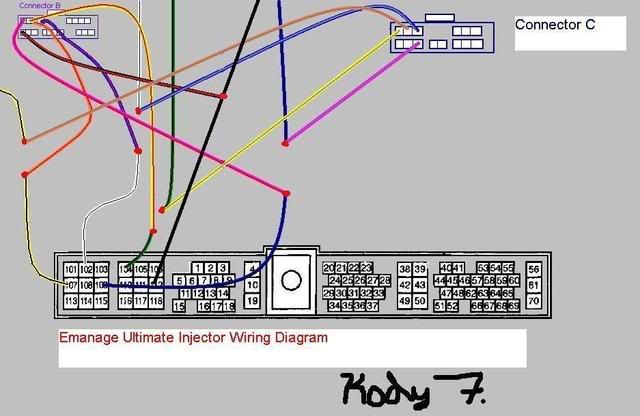 Ignition/Knock/Vehicle speed
I recommend you solder all spliced connections, the bullet connectors that come with the EMU will suffice for the connections that require cutting an ecu wire.
Next you need to install your pressure sensor and hook it up to vacuum source. It would be best to give the sensor its own vacuum line, straight off the intake manifold or i/c piping. Then, just route the wiring harness through your firewall and plug it into the EMU.
You are now done installing the EMU, take a break and get you something to eat.
It is now time to setup the parameters in the software for your vehicle. It is best that you leave your stock injectors/mafs installed on your car, to make sure the system is working properly before you install larger injectors.
Install the program on your computer using the directions in the manual (self explanatory). Connect your laptop to the car and turn the key on, but don't start your vehicle. Something should pop up and ask if you want to install connection software. After you are done installing the software, turn your key off then on while the emanage program is running. It will ask if you want to connect realtime, click yes. Then, click the car icon, then the vehicle tab. Your screen should look like this:
My car has a z32 mafs, if yours doesn't leave "airflow change to" blank. Your crankshaft offset angle may very, I will explain in the tuning section. But 7-9 is usually where it will fall.
Next click the IGN tab and set like this: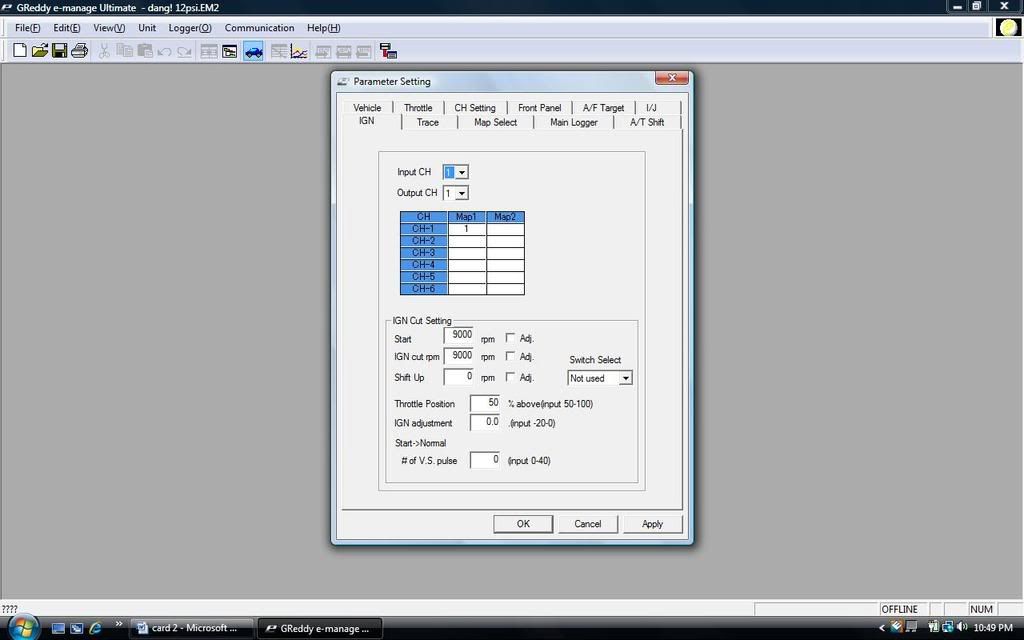 Then, click Front panel tab and setup like this:
You should now be able to start your car if you have the stock injectors installed. If not, you have made a wiring or jumper setting error.
So, now that you got your EMU installed and running on stock injectors, it is time to throw in those bigger injectors and get started. Make sure you have everything in the screenshots above correct. Read the tuning manual!!!
First, click on the car icon and bring up parameter settings. There is an option under the I/J tab to change your I/J before and after, but you do not want to fool with this. It inhibits stalling issues and bad drivability. So leave it as is >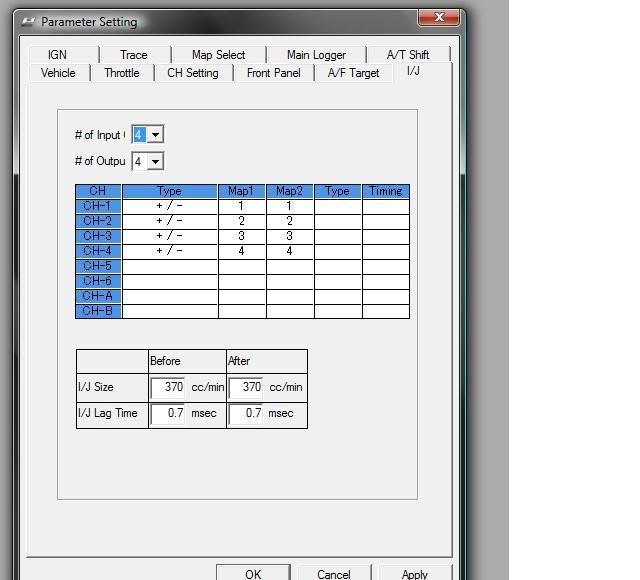 Now with the car off and the ignition on, click on throttle tab. Floor the accelerator and let off, this will set your min and max throttle voltages. Then click ok.
Then click on the map select tab and check off the boxes I have checked off. Click ok.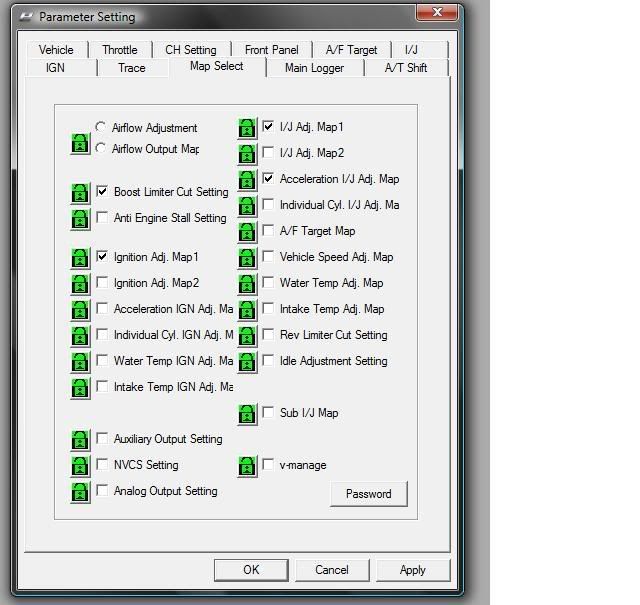 Notice on the left in the map tree, these items are now visible. Double click on the I/J adj. first. Change the parameter to greddy pressure sensor voltage. Since you installed bigger injectors you will need to subtract fuel everywhere the amount depends on how big your injectors are. - (20 - 30) is a good starting point for 550cc's. If you have bigger injectors subtract more, and if smaller subtract less.
Now try to start you car. If it doesn't start at all either your subtracted percentage is way off, or you have a wiring / injector problem. Once it is started let you car get to operating temp. Then look at your wideband and see if you are rich or lean. Adjust the percentage accordingly, until you get close to 14.5:1 - 15.5:1.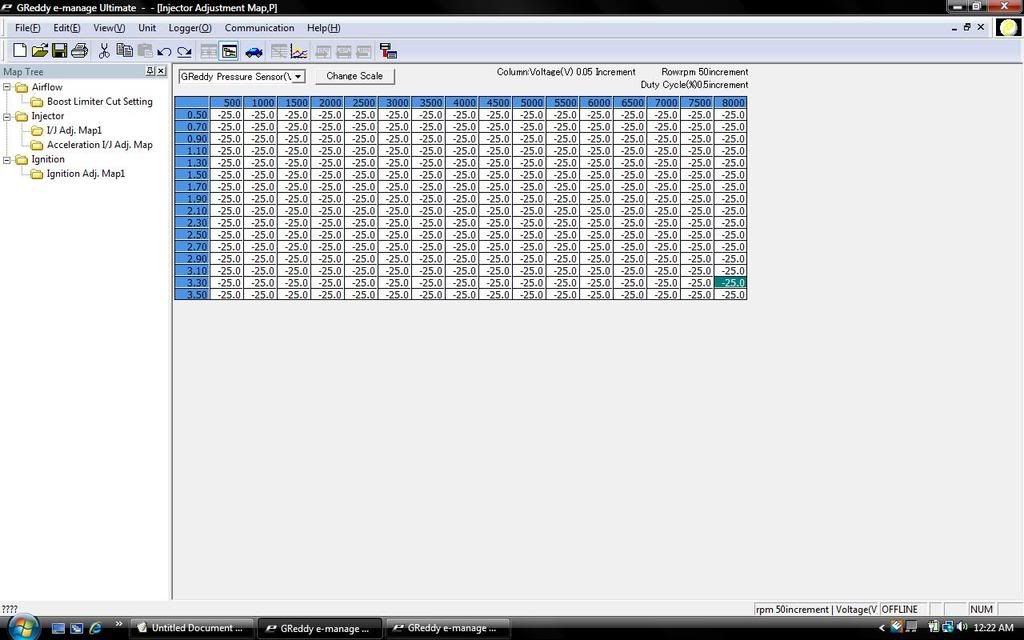 With the car running, click on the icon that is 2 icons to the right of the car icon. This is the datalogging utility. Open it up and click on the button with the arrow pointing to it. You can select anything you want, but these are what I recommend for now. If you have the wideband harness you can datalog afrs also. See what your timing is at idle according to the logger, then go check this with a timing light. If they differ, you need to adjust the crank offset angle in the vehicle parameter settings until they are the same. Play around with the logger and find out all of its features as it is a very important tool.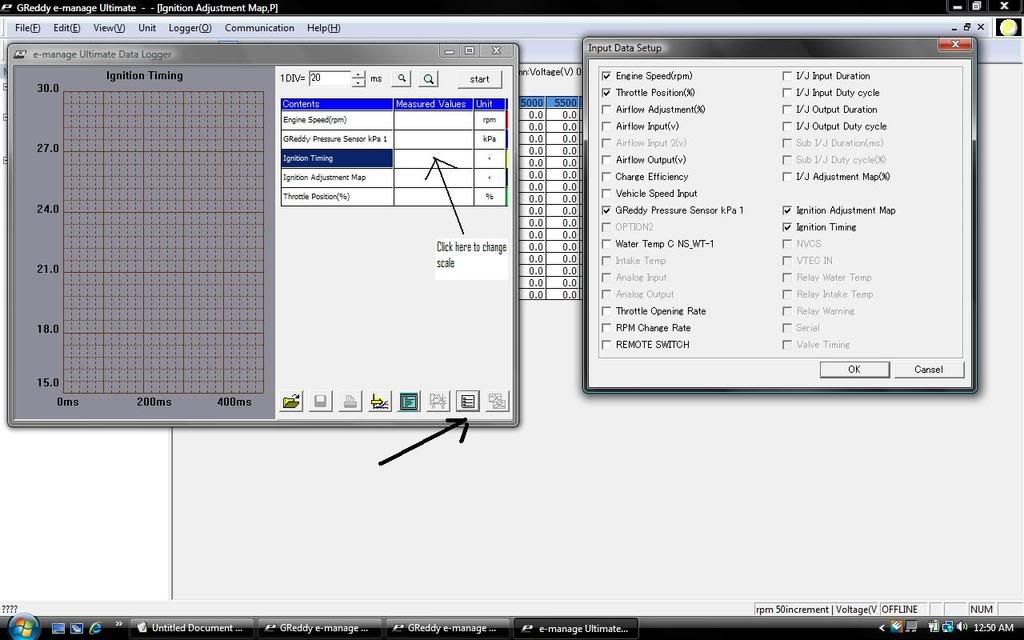 Before you go driving around you need to retard your timing via the ignition Adj map. Double click it in the map tree until it pops up. Switch the drop box to relative pressure. Insert negative numbers to retard timing. I suggest you set your y axis like mine, buy selection change scale, and entering the values. This is what my map looks like. These numbers may seem very retarded to you, but 1* of timing on the emu is more like .7* in real life. I suggest you use this map to start off with. When you make a run, datalog it and see what your actual timing number are and make corrections from there. This is about 14* total timing at 14psi, which is a good starting point.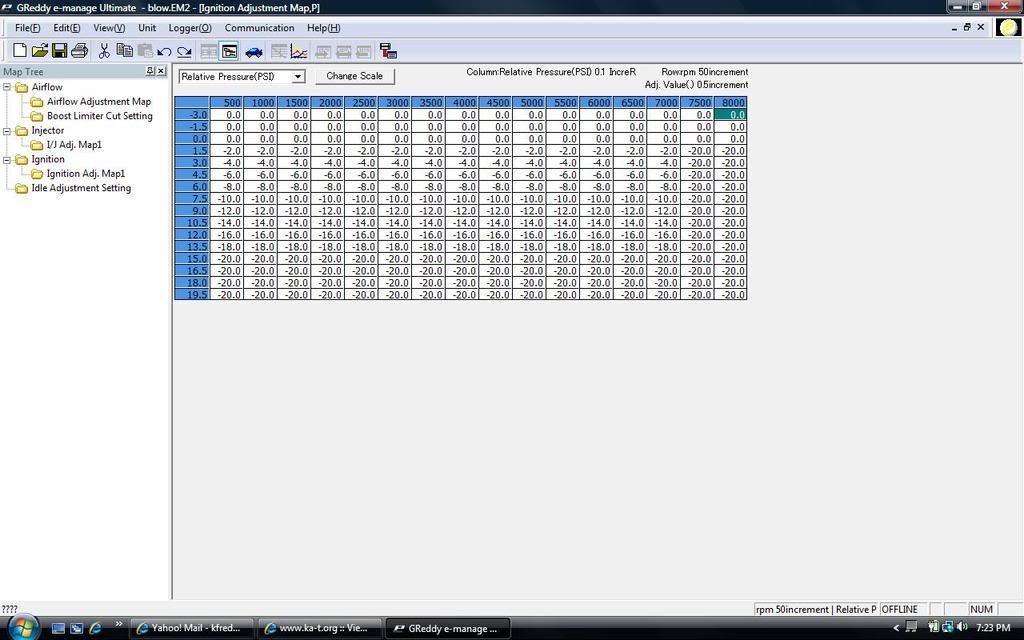 Your car should now drive around normal in light throttle. Your car will definitely be too lean for wot runs with -25% everywhere. Find out what pressure sensor voltage corresponds to boost threshold using your boost gauge or the datalogger. You will need to richen up the values below this voltage. You can see where the EMU is reading from by using the map trace utility. To the right of the car icon there is a button with a line graph on it. Click that to activate the map trace. Go look at you I/j adj map and notice that there is now one box highlighted yellow. Tap the throttle lightly, and you will see it move around. The highlighted box is the value that the emanage is reading at the current moment. If you go to the car icon, then click trace, and set it to 10sec, you can see the path that the highlighted value takes. It will leave a trail behind the highlighted box for 10seconds.
To tune the I/j map you need to drive around and make changes according to you wideband and maptracing. With 550cc injectors, 50trim, and blow through mafs (z32) my finished map looks like this. This is tuned for ~14psi and under. Take it slow, if you are not confident in your ability to tune the map. If you for some reason hit a "rev limiter" in higher rpms on wot runs, your emanage is seeing 100% I/j duty cycle. You fix this by going under the boost limiter cut feature and entering the voltage where this occurs, Probably around 4.0volts.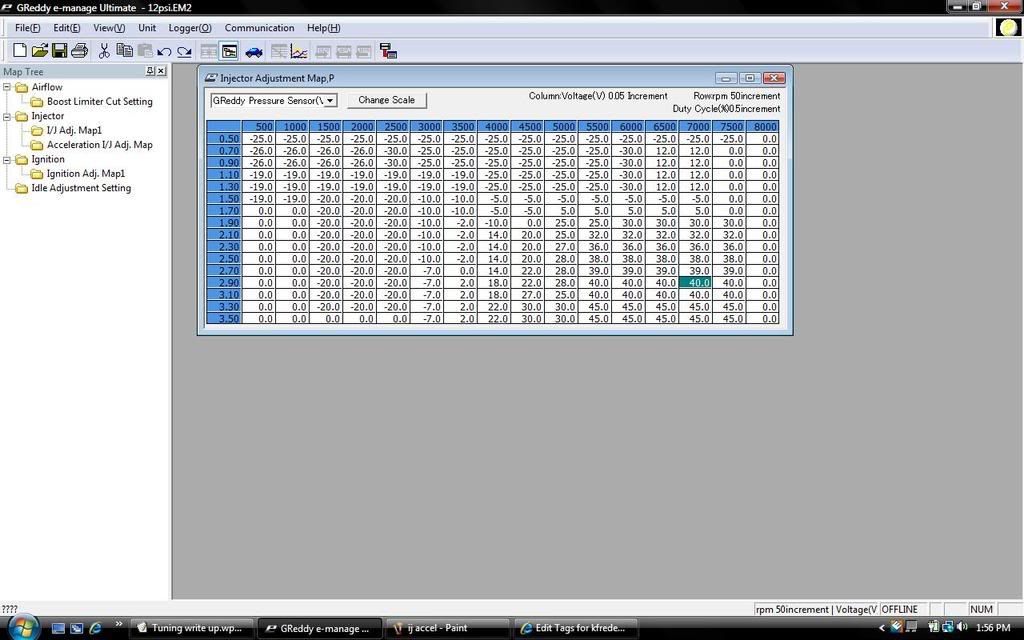 You will probably notice that when you tap the throttle quickly, your wideband flashes lean for a second. This can cause light knock when switching gears under wot. To fix this issue pull up the I/j acceleration map and enter 15 in all of the boxes. These will help richen up the lean throttle tip in issues.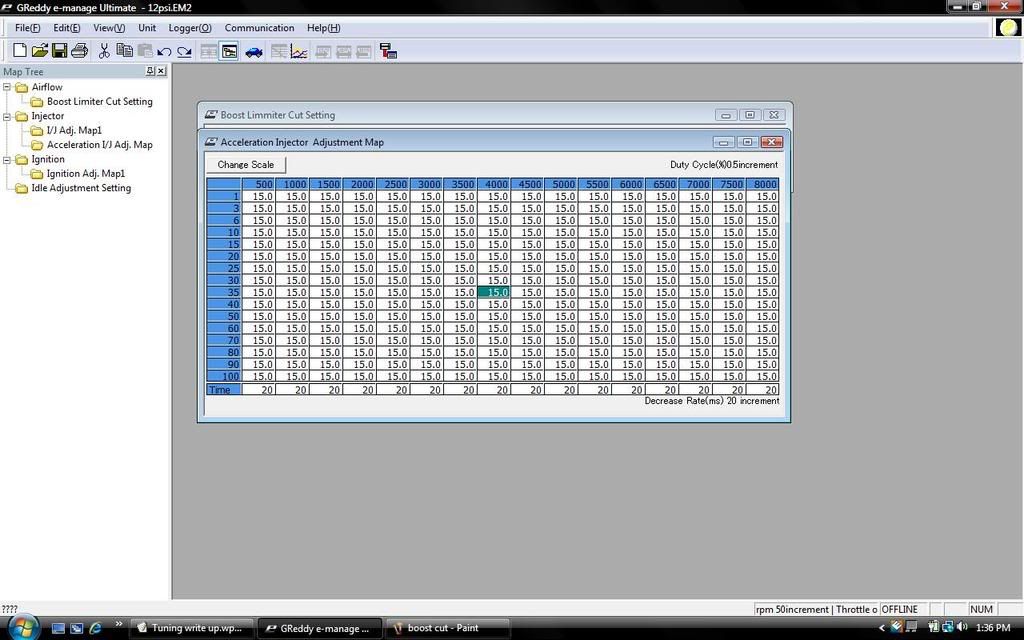 There are other ways, methods of tuning using the emanage ultimate. This is just the way that works best for me after many tries. There is also a way to switch to speed density which I may cover at a later time.
Use my maps and wiring diagrams as reference only. I am in no way responsible for any damage caused by the use of anything in this post..