I am pretty lost here. I have a Gizzmo Knock light. I know you shouldn't trust it as a soul source of knock detection, but it does tend to ping and so for that it gives me some sort of sanity. I have had my car tuned by 2 different tuners. For sake of comparison, I will only show timing maps that have the same K value. The other is using a different K value which makes the load different. My street tune is compared to the dyno tune with the same K value.
My knock light goes crazy with the both dyno tune.
My safe tune feels f-ing sluggish as hell.
The other 2 tunes feel pretty quick, but the knock light just wants ping straight red.
91 octane
Gizzmo Knocklight
TD05 20G
Z32 Maf blow through
550cc
9:1 compression
Nistune
TP
40- 0psi
64- 5psi
72- 10psi
88- 15psi
Street Tune
Following the 25-Xpsi*.75 SLOW AND SLUGGISH
BASE TIMING IS SYNCED WITH NISTUNE.
Dyno Tune with same K value as street tune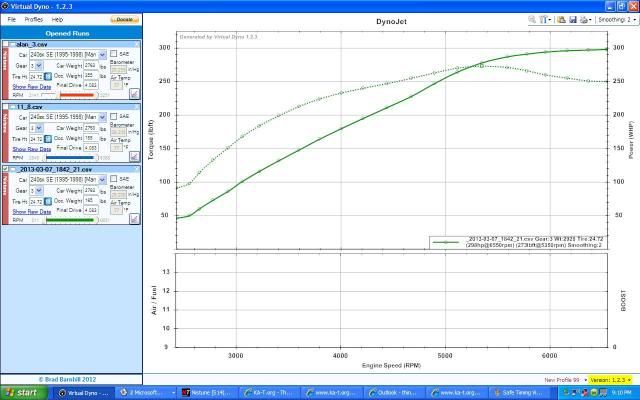 Just for **** and giggles different dyno tuners comparison on VD
My safe timing vs dyno tune with the same k value. .75 rule ect....
Dyno Run with the higher horsepower
I Am just so lost. I want a safe reliable tune. Both tuners do not have knock detection. They just watch the dyno and listen, then anaylist the charts for knock. Kinda scary now that I know what I know about tuning. I NEED SOME INPUT ON STREET. I am still don't quite understand how a diminish in torque equates to knock ect...
I attempted to make this knock sensor from uprev. All I got was straight noise. I'm sure I did something wrong. I guess I may have to try the knock sensor method in the electronics section of the forum. also for those of you who have made electronic knock sensors and chassis ears ect, where are you guys bolting these things up too? I can bolt To the stock knock sensor location, but it's always a bi*ch to put that thing back on.