This is in my opinion a fairly huge build, and seeing as I am a full time Mechanical Engineering student at Conestoga and work part time at RONA, there is no set deadline on this build (low budget per pay etc, working on it one day a week.), but in the end it will be minty fresh
Soo, this build started as an 1990 SOHC 240SX hatch, KA24Power's old car. Probably should not have sold this car, but I wouldnt have an S30 if i didn't lol.
I sold that to Kollo (who is building it now), and bought a black 1995 Zenki 240 off Simplemind7.
The S14 was f*cked. It looked fairly clean underneath - but that turned out to be massive amounts of bondo, fiberglass, hot glue gun sticks, drywall mesh tape, cardboard, hockey tape and duck tape used to fix anything wrong with it :/: The floor was soggy. I've never seen anything like it. The floor was solid at the frame rail joint, but the floor folded down around the frame at least an inch at the greatest movement. Wasn't rusted out or anything, just... soggy. (NOTE: I am in no way blaming Brendan for doing these things to it - I know thats not his style - whoever did do this however deserves a punch in the ovaries). Fenders and front bumper were held on with self tapping zinc plated screws..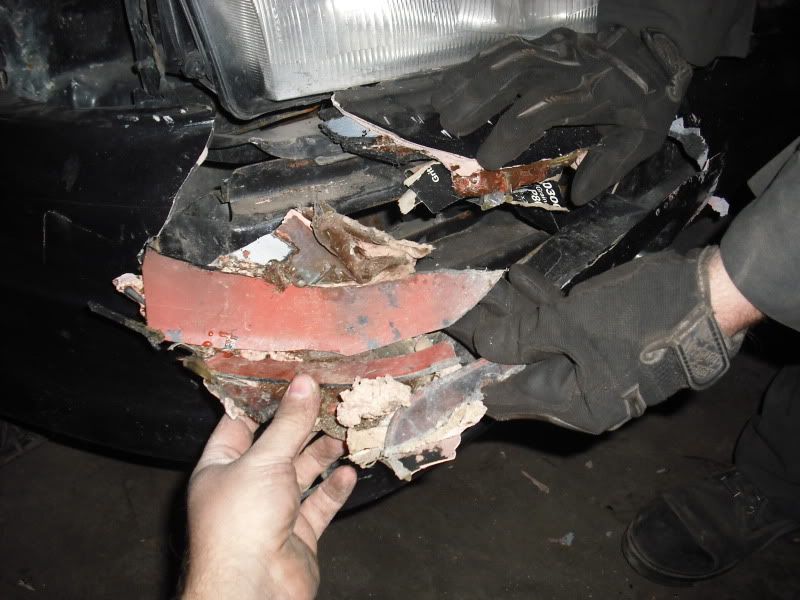 My entire direction for this build changed in the past 3 days. Friday night an idea came upon me, and I researched. Saturday night I went and took a look at a disassembled car and put a deposit down. Sunday night, much thanks to a few guys helping me out huge (David, Ben and John), I picked up said disassembled car and brought it to my shop. I picked up an entire 1973 240Z, in parts, for a extremely good price.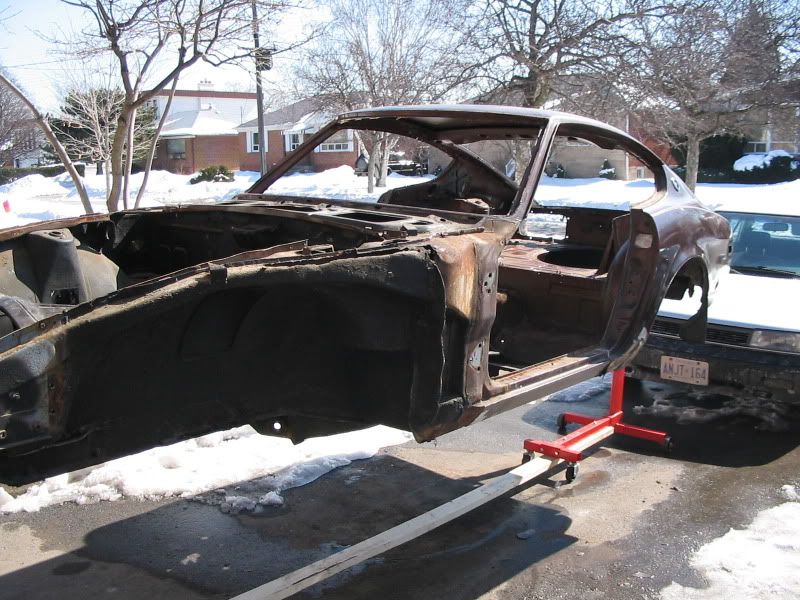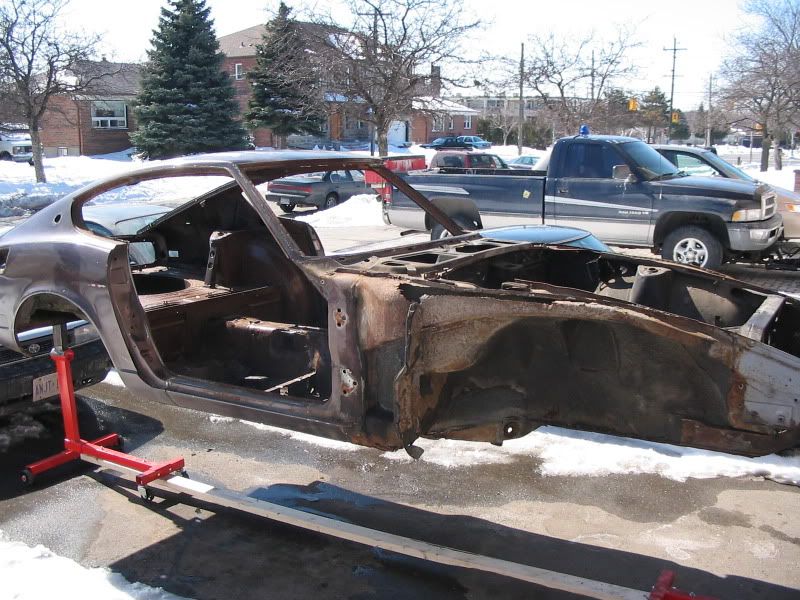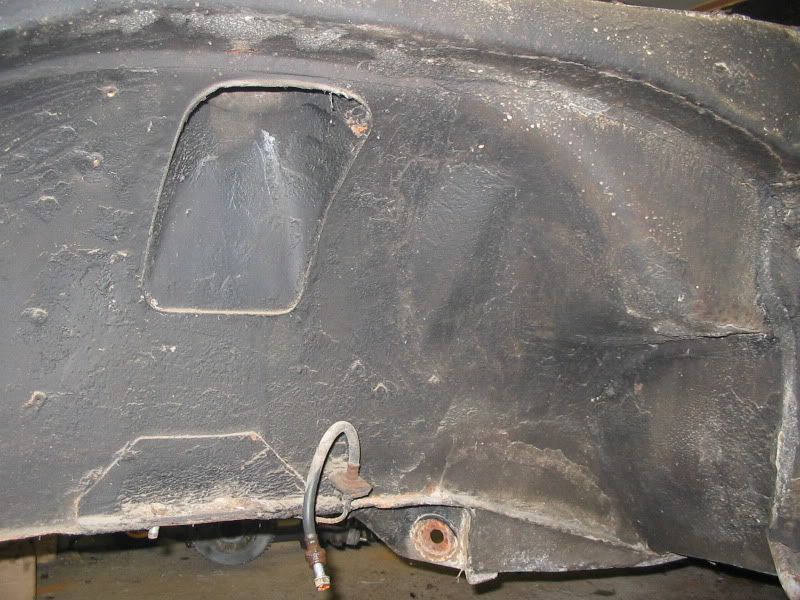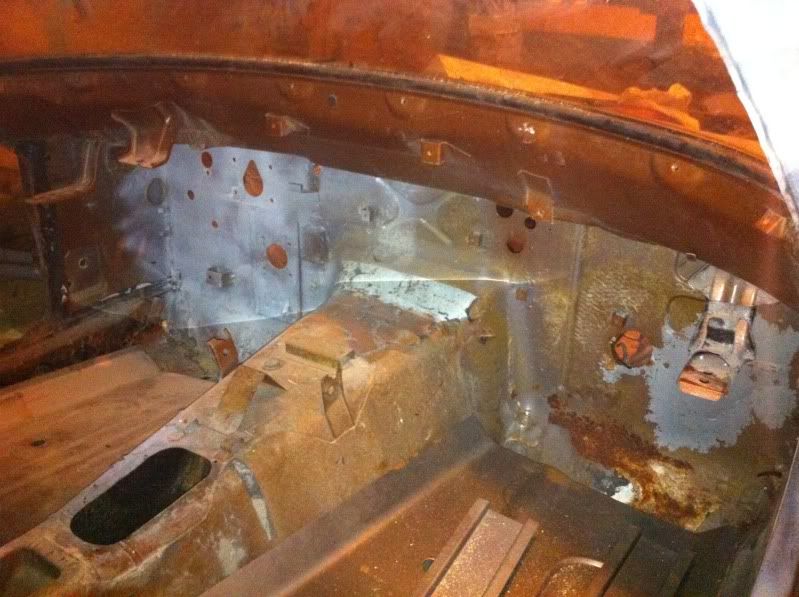 Don't mind the surface rust on the frame rail - they're 100x more solid than any S13 rail I've seen lol.
Looks half decent with some Blitz Type 03's..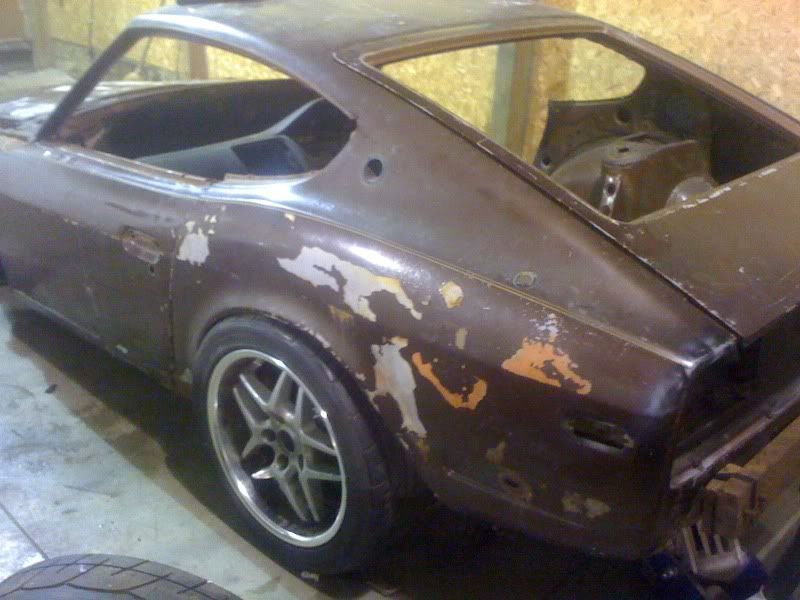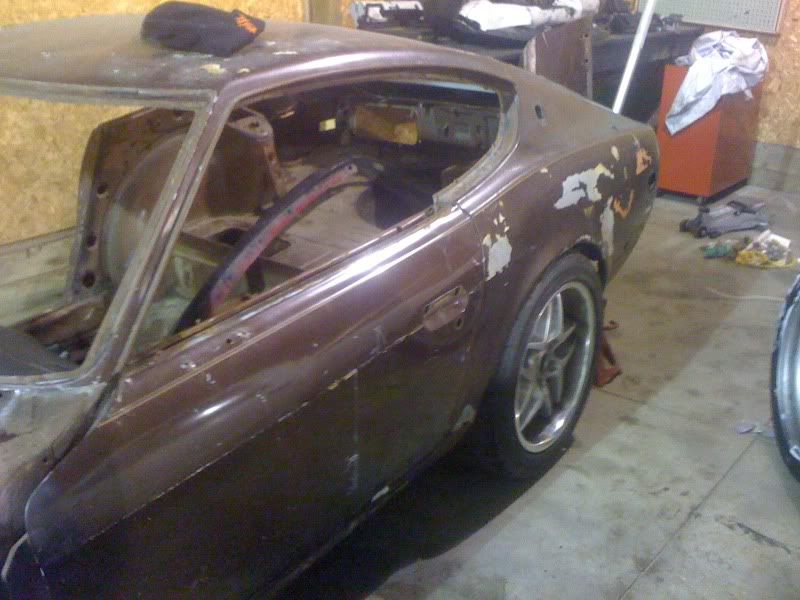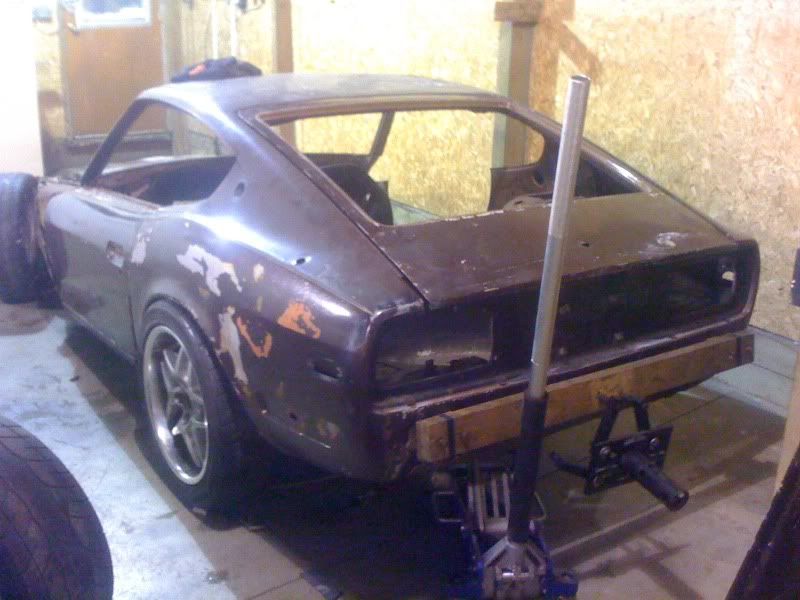 Spent some money on these that probably shouldve been spent on the Datsun lol. Oh well. Green XJ daily - then S13 daily - now red WJ daily - need new pics with lift and other mods.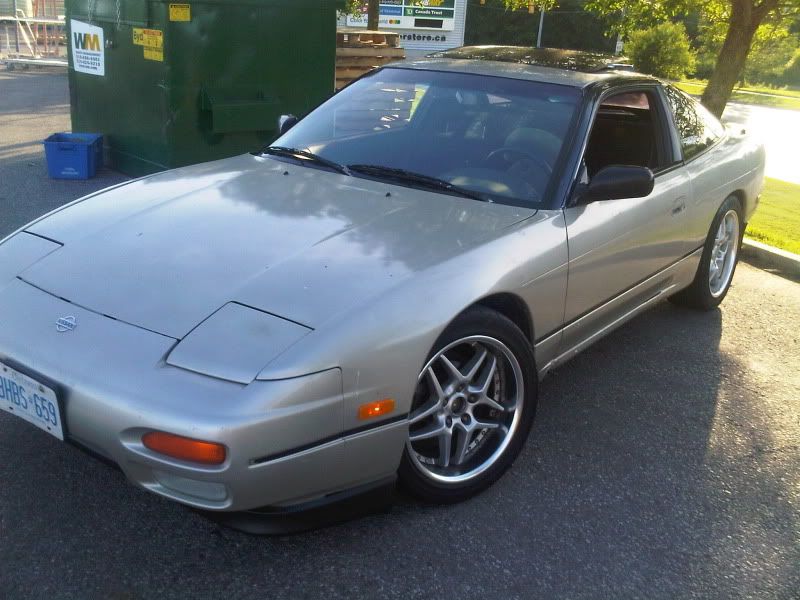 Due to various reasons, left my shop in Tavistock (~2000 sqft) and crammed everything into my garage (~200 sq ft) FML. Space is a little tight. Working @ Rona part time has its benefits i.e. 1.25" thick melamine workbench for ~$5. I'll miss the shop mascot though.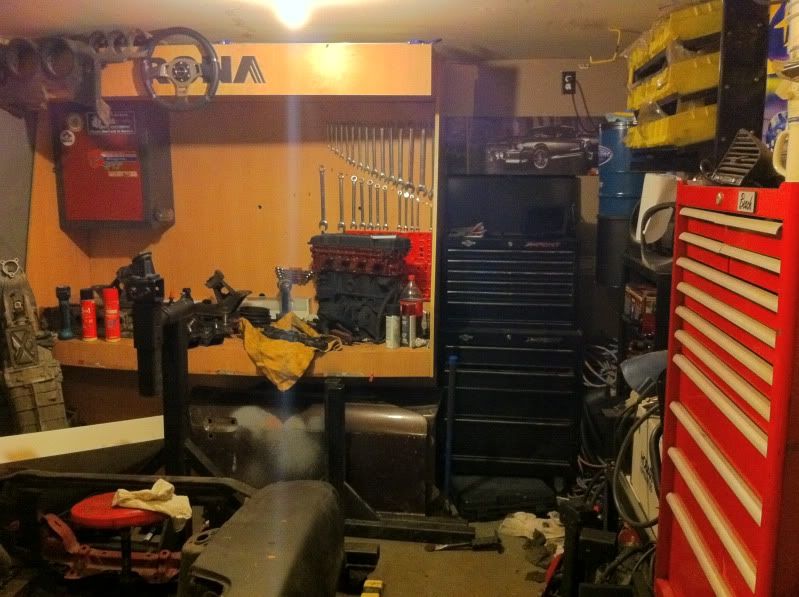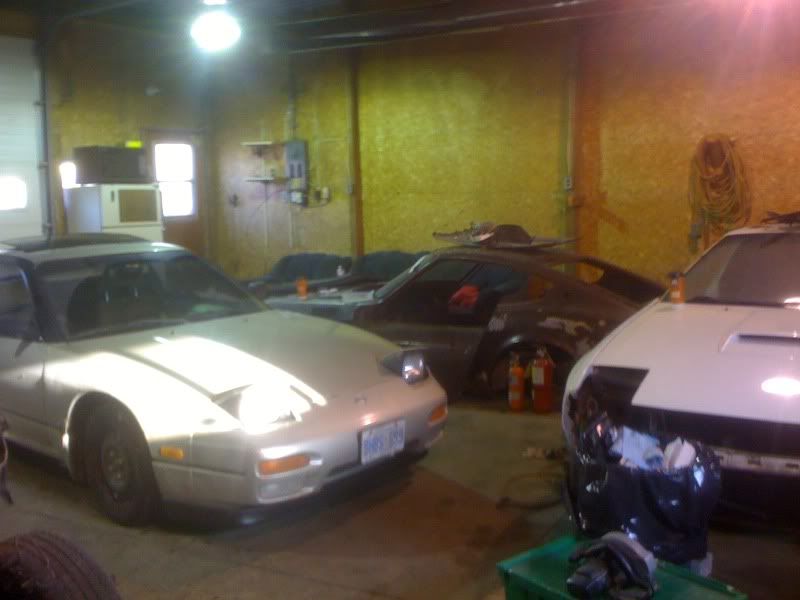 Figured it was time for a legit rotisserie -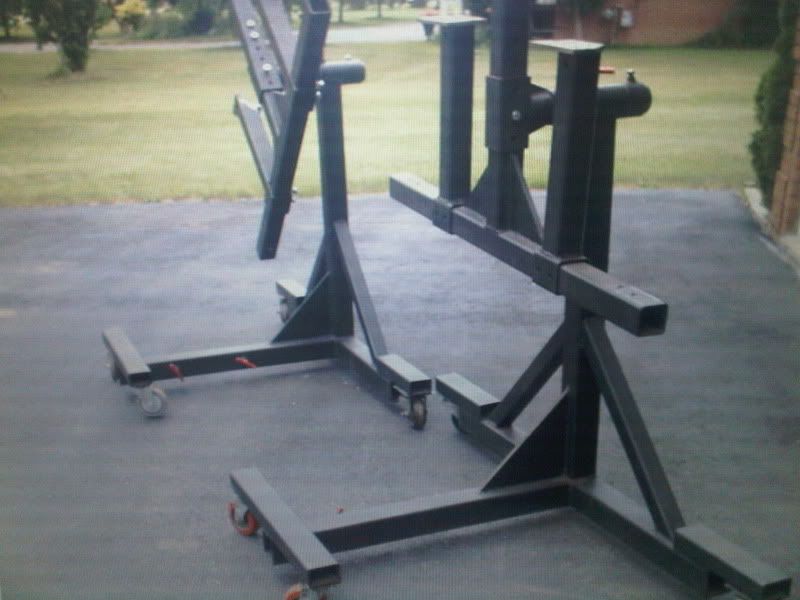 Stripped all paint off the car, as well as up to 3/8" thick of bondo off the roof and rear quarters even though the metal on the roof was perfect, and it looked as though they tried to reshape the contours of the rear for no particular reason. Used stripper, sandblaster as well as blowtorch and scraper. Primered it, and will get little spot touch ups when time comes for paint.
I'm set for fuel, cams, efan, fidanza,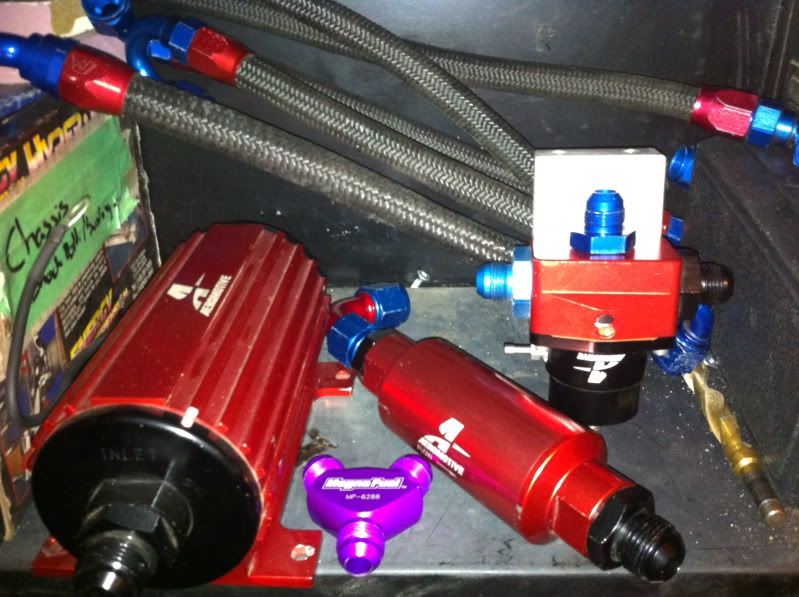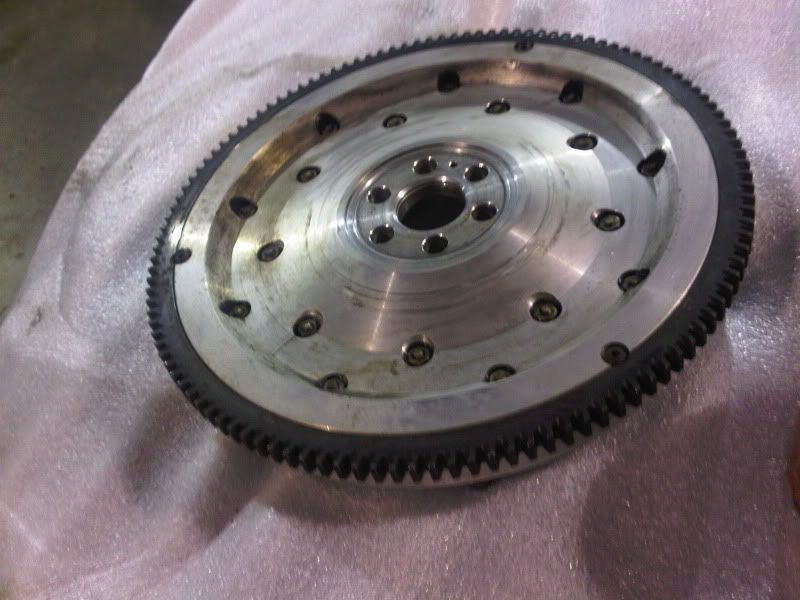 5 bolt had to be removed from R34 GTR knuckle so I can use the Z32 big spline 5 lug. It appears as though the GTR knuckle is an aluminum version of the S14 which would eliminate the issue of coilovers for you guys that upgrade to Z32 uprights and need to switch bottom mounts.
Step 1: 3 Jackstands and a BFH.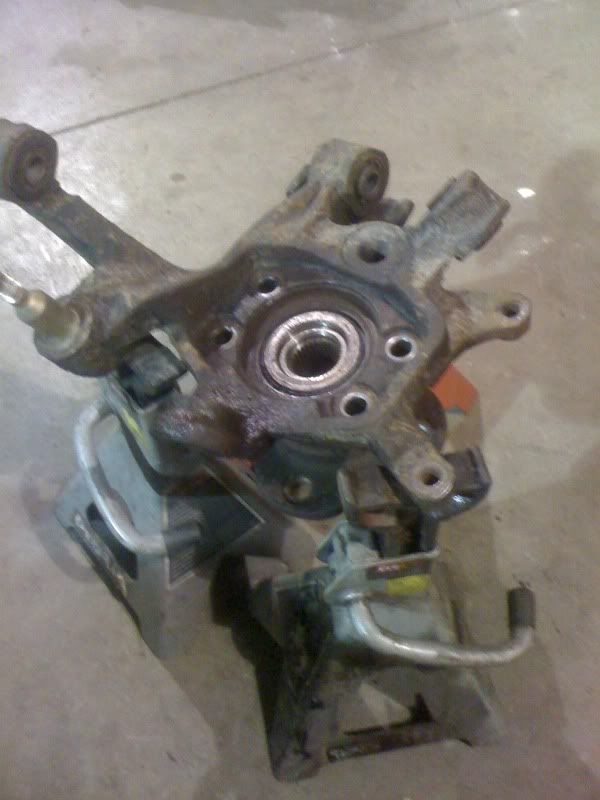 Step 2: Booya.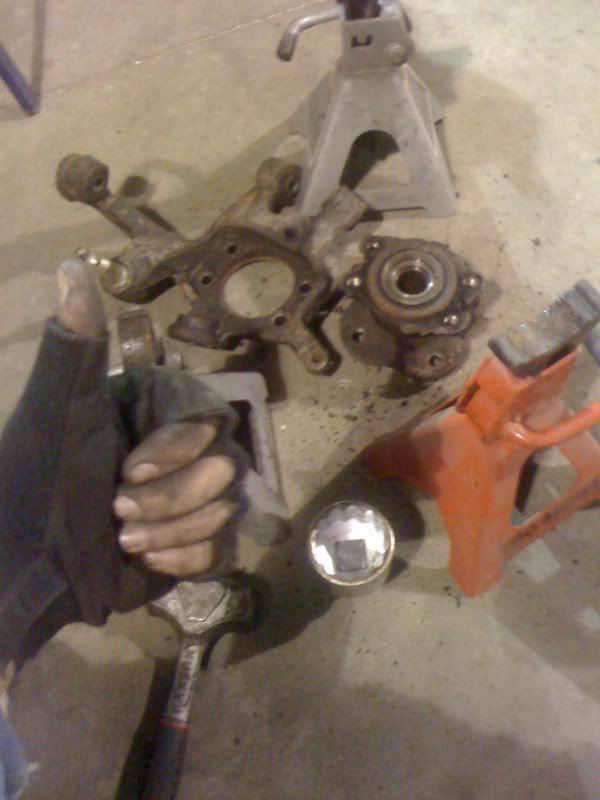 Z32 Big Spline 5 Lug, S14 Front spindles, FLCA. Bushing on the FLCA had to be ground down 1/16" to fit the S30 Subframe..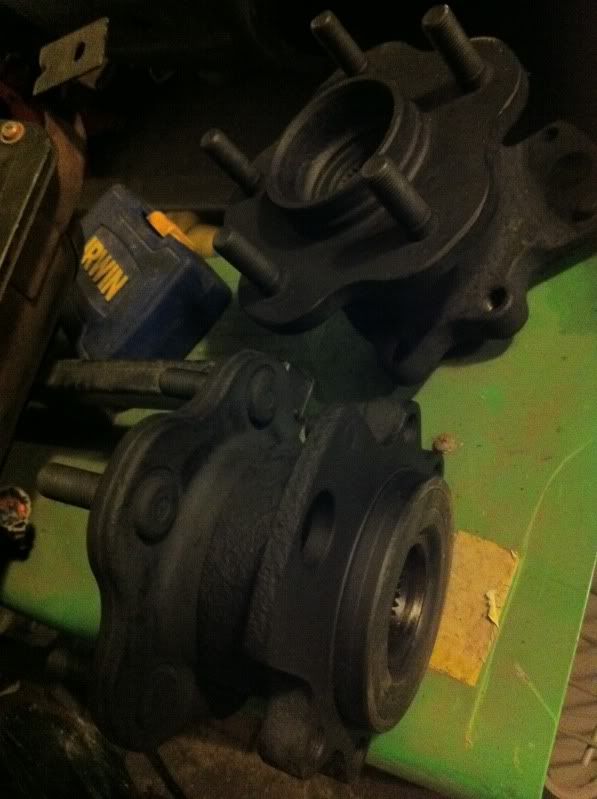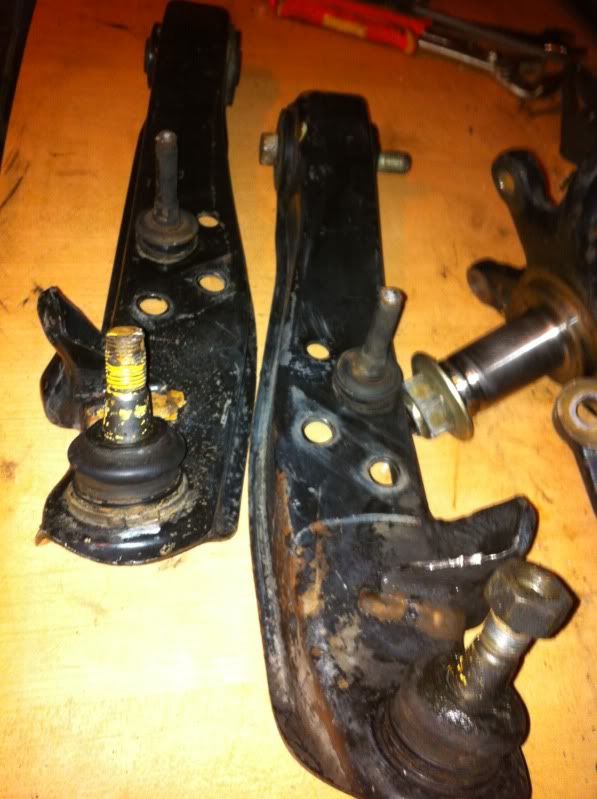 Garrett GT3076R 0.60 A/R - Super Legit Paperweight.
Z33 VQ35 6 Speed
Vs. KA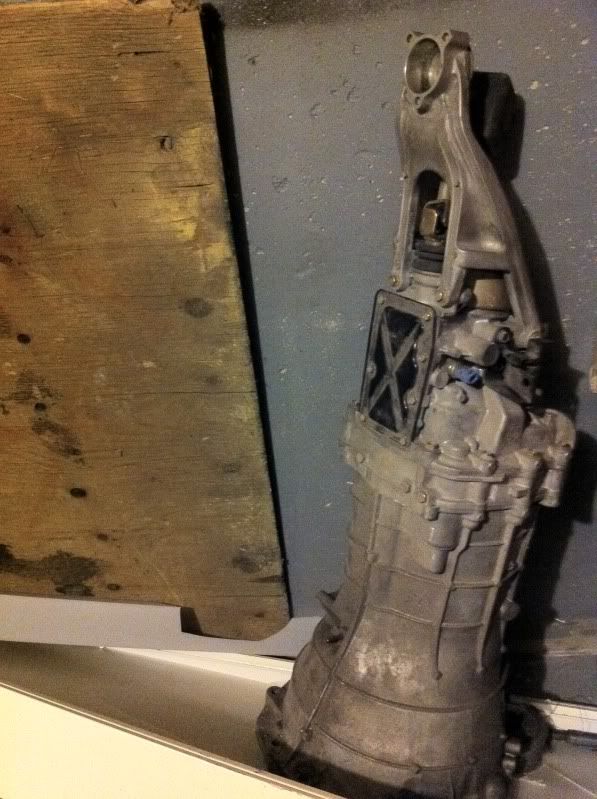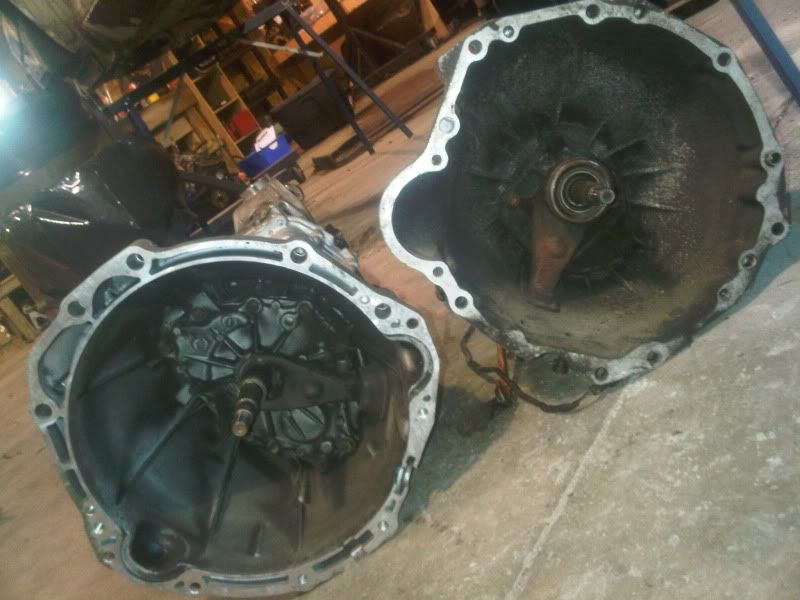 A little bit of the dirty work. The name of the paint stripper is true.. As are the warning symbols
Second pic shows one coat of stripper left on for 10 minutes which was wiped off and then a coat of easy off to degrease. Works wonders.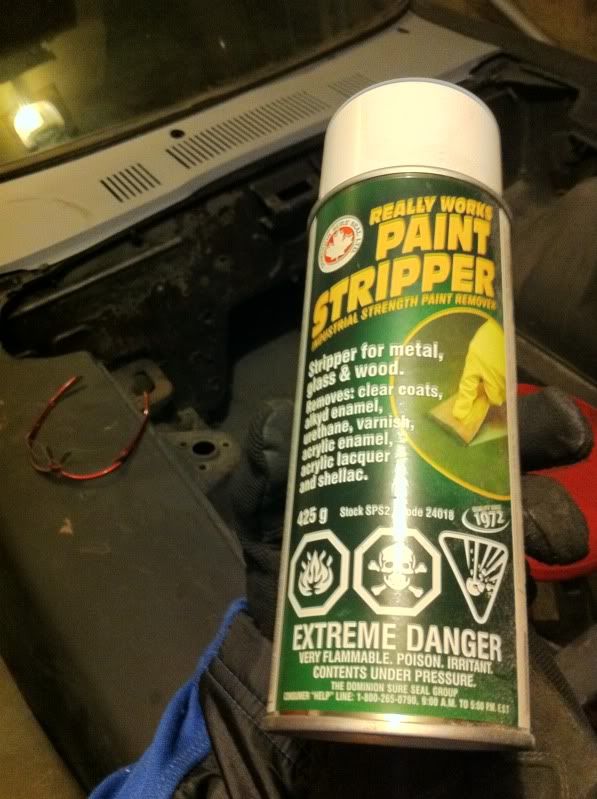 Started cleaning up / primering parts while my money is tied up in school. That way when I buy all the remaining parts I can assemble **** without waiting around on cleaning em
Also, started to measure & design my build in Solidworks. Have the 5 lug, Q45 output shafts, Brake rotors, as well as starting on engine. For dreaming purposes the KA crank is fully balanced, but i'll be changing it to realism someday..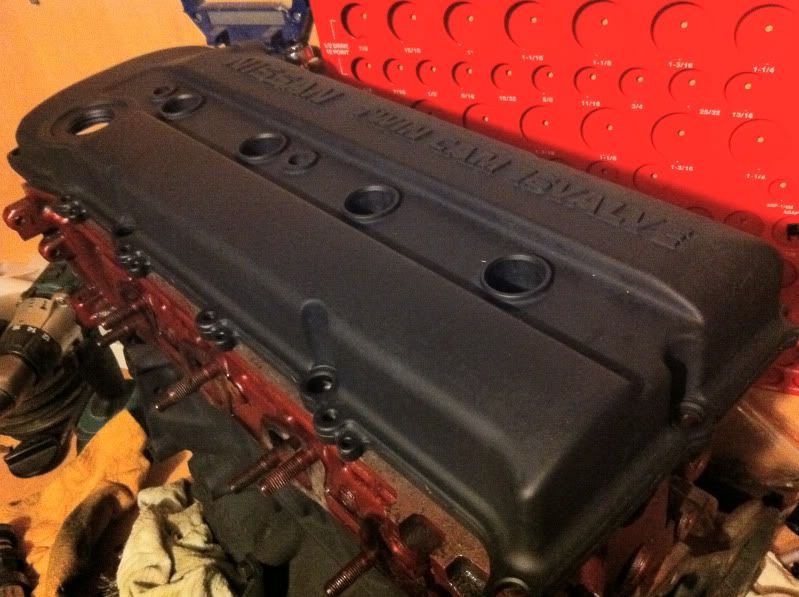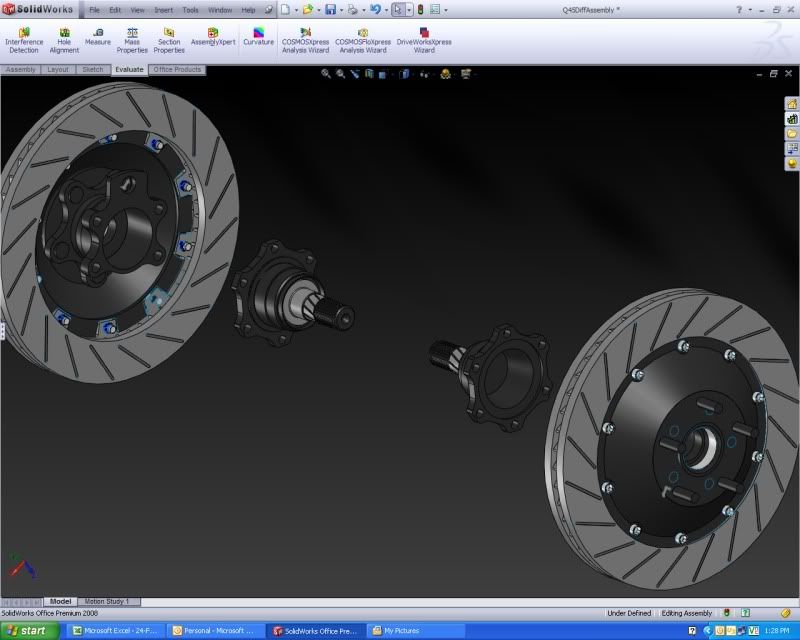 Picked up a new cowl piece - thx JP.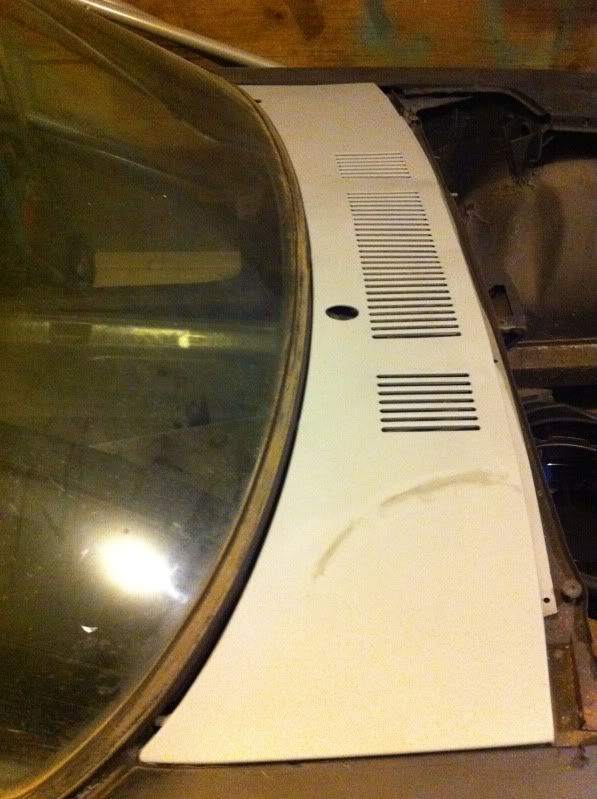 This probably shouldn't have been used as a amp ground wire..
A buddy hooked me up with a E36 M3 Dash, centre console, glovebox, trim etc.. Will need a tiny bit of trimming obviously, but is almost the same curve and width as S30. E46 M3 Cluster looks alot nicer, so i'll probably end up going for it.
Started hacking the E36 dash with a dremel + sawblade.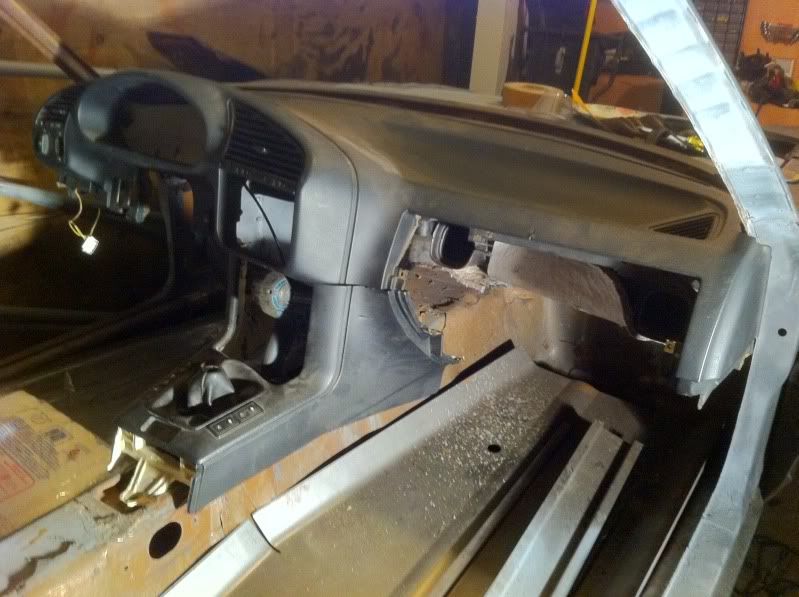 Thinking about taking off these drip trays - i think it'll look hell of a lot better.. thoughts?
If someone wants a FG S30 replica to start off of you can have it for a doubledouble
.
The black 240z has a roughly similar end product as what I want, however mine will be a fair bit wider. Talks with Weirtech about a cage for the Z similar to this, but with adjusments to meet spec here:
Good news is that I bought a ZEDD Findings floor kit which is perfect as I am lifting the floors 1 3/4" to 2", as they sit below the rockers, and would scrape like nobody's business. I need to fab up my own GTR subframe mount and will probably make my own floor rails as the ZEDD findings ones are just bent 18ga sheet. After major components are fabbed up, I will take the car on rotisserie to nearest Line-X and spray the entire bottom - stiffens the hell out of it, sound deadens, as well as the obvious rust proofing bonus..
My new friend.
After grinding: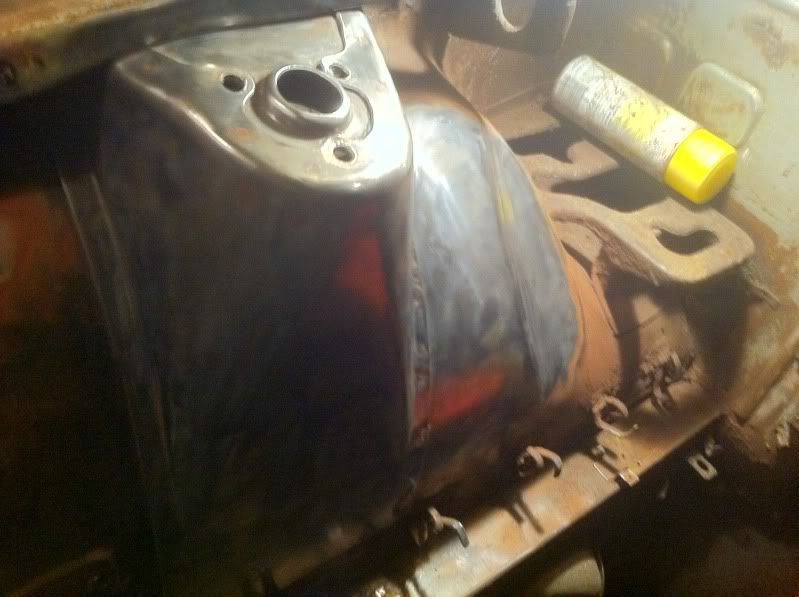 After primer;
Cleaned up and painted the Z32 5 lug and BNR34 knuckles.
Also kept busy lifting my daily - this is beside a stocker. 3" IRO lift which lifted it 4.375" all around before sag and is at about 4.25" after 2 weeks.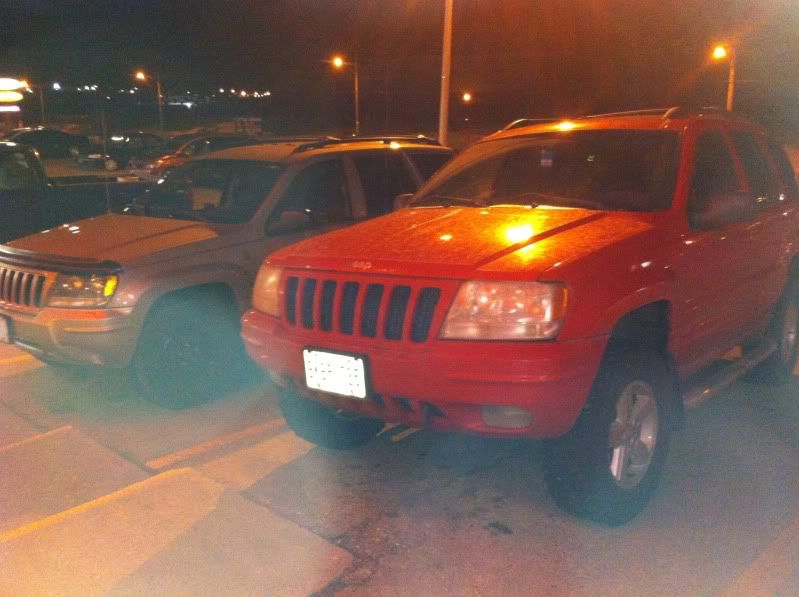 Here's some more-
Beforish:
After a couple hours: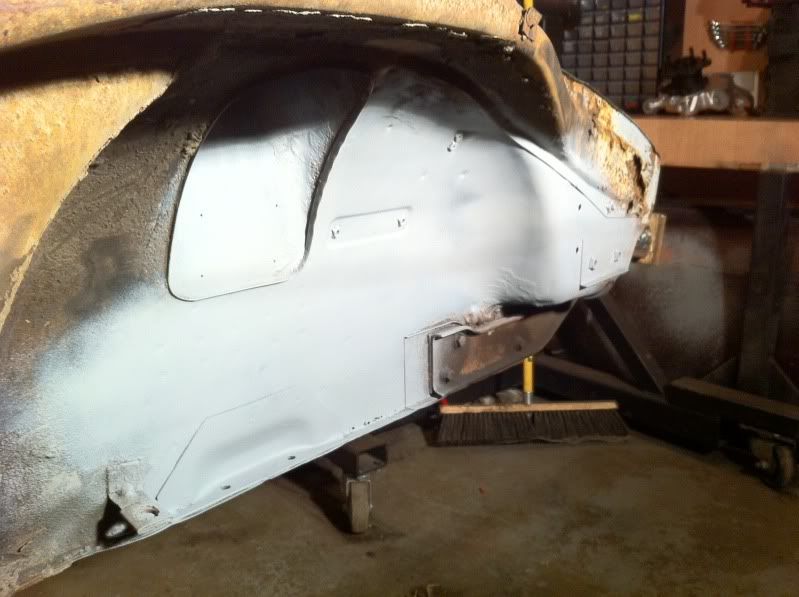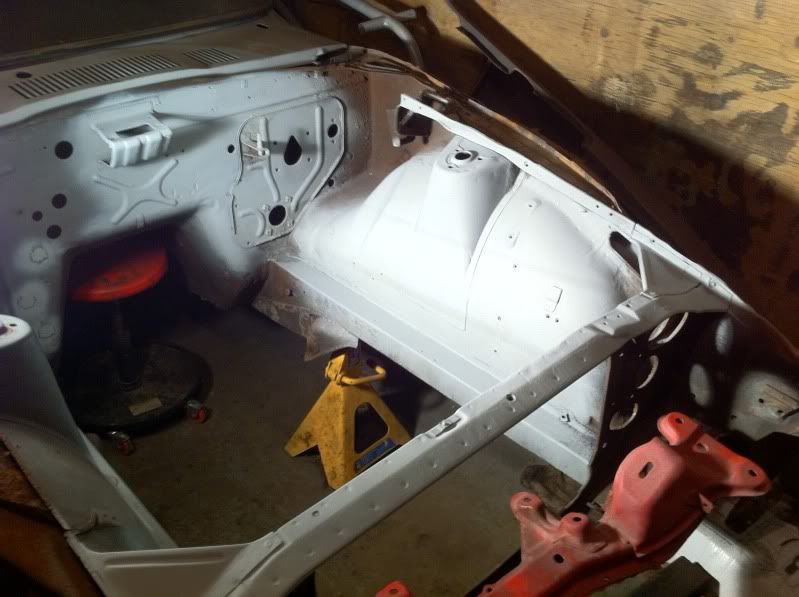 Started cutting off all those annoying clip things.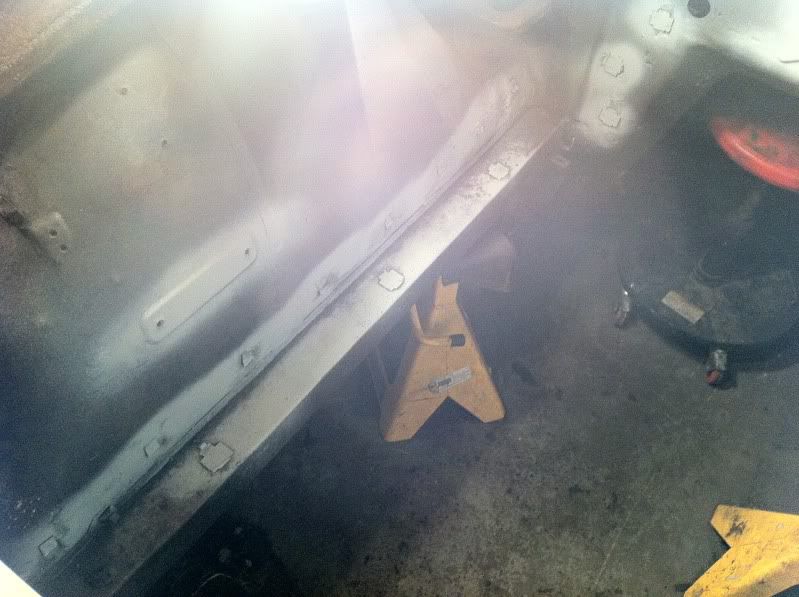 Bought one of these: Q45 90mm throttle body + tps.
I should probably apologize somewhere in the thread for taking all pics with my iPhone - not the greatest quality.
Also, subframe is sandblasted just needs to get picked up and slapped on, so I can start on S13 coilover conversion on S14 arms..
My wallet hates me.
Soo the only reason I was using the M3 E36 dash was because a stock one cost a fortune in good shape. Until I met an old guy who lives a few streets over from me and he hooked me up.
'72 240Z Dash - professionally restored
Heater center vent
Centre Console
All necessary tubing
BNIB dash side vents
Glove box
Dash to windshield trim
Dash harness (not needed I'm doing new gauges throughout)
Tail light finisher pieces
Enough speak, more pics.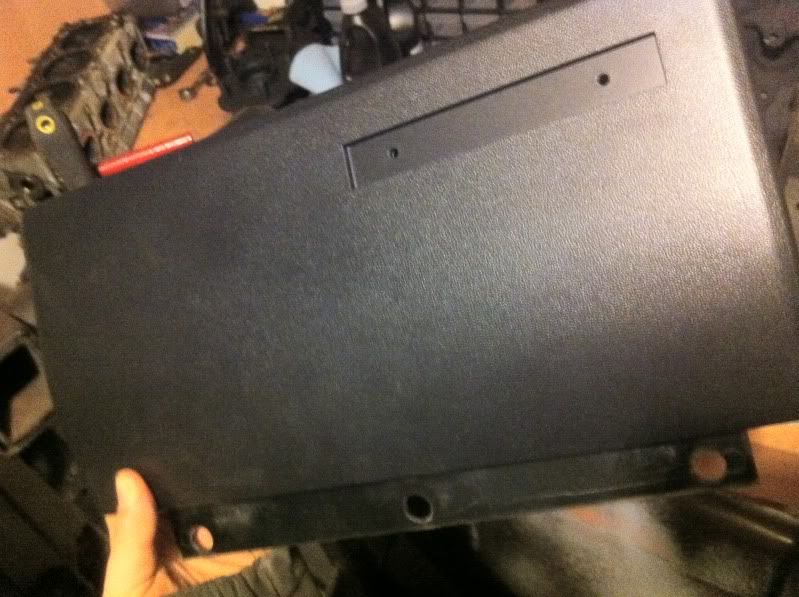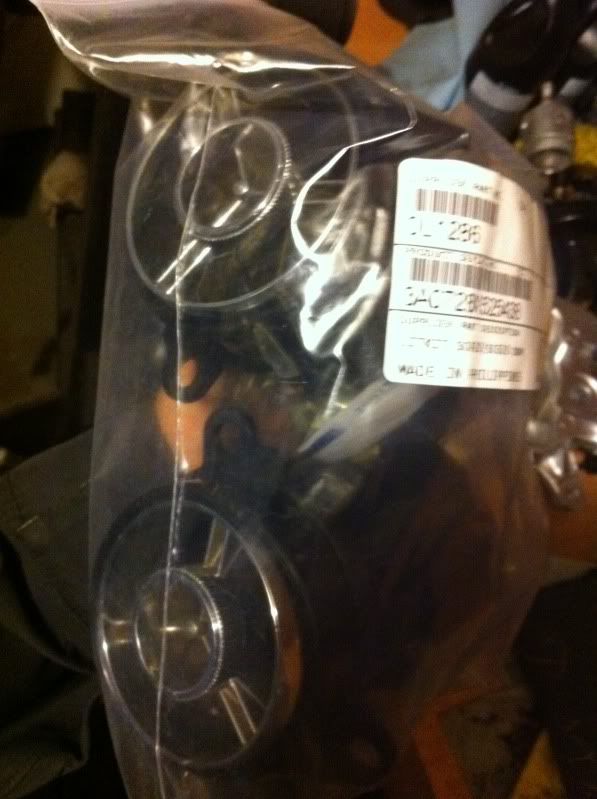 Also started fitting the S14 suspension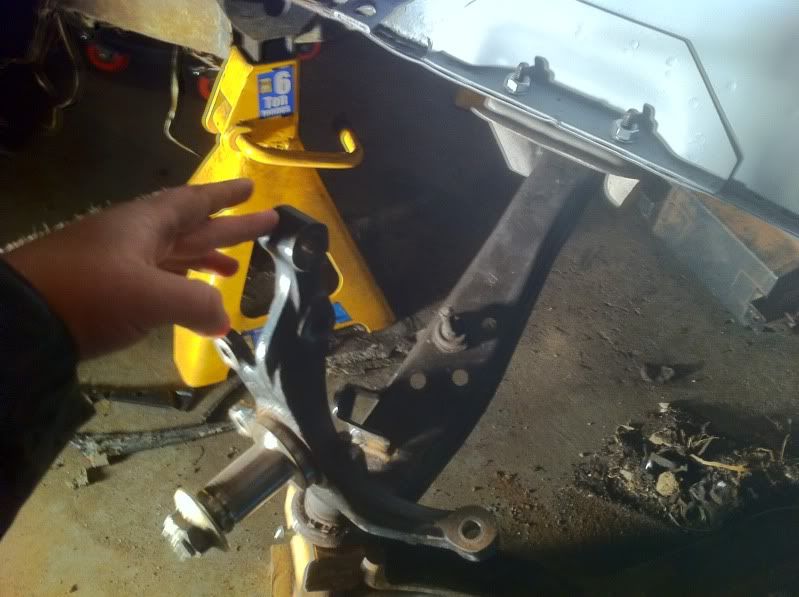 And fabbed up some arms to hold the front on rotisserie.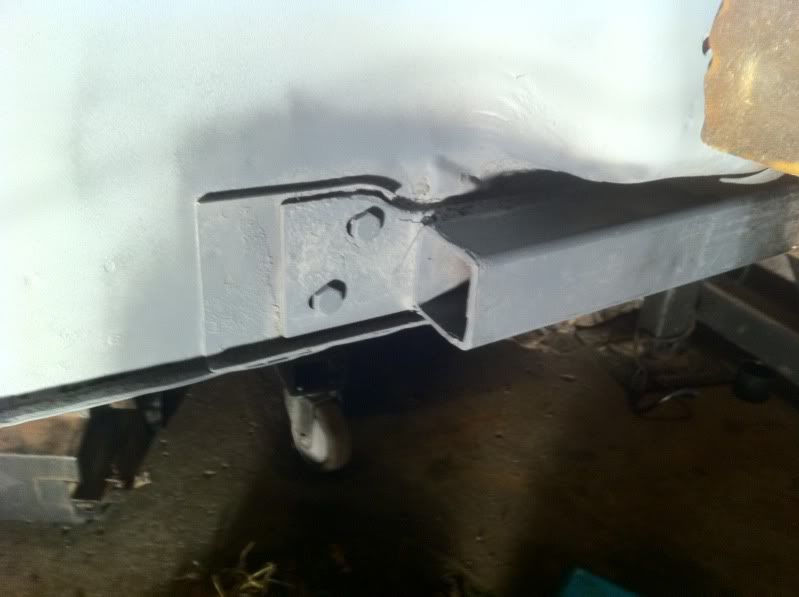 Soo I got an email from the guy that I bought my dash from about a hood for sale out in Brantford. I headed out there after work and met Chris and Rob - couple of bro's that have a pair of Datsun Z cars - one of them RB swapped. Cool dudes - sold me this hood for $50 :O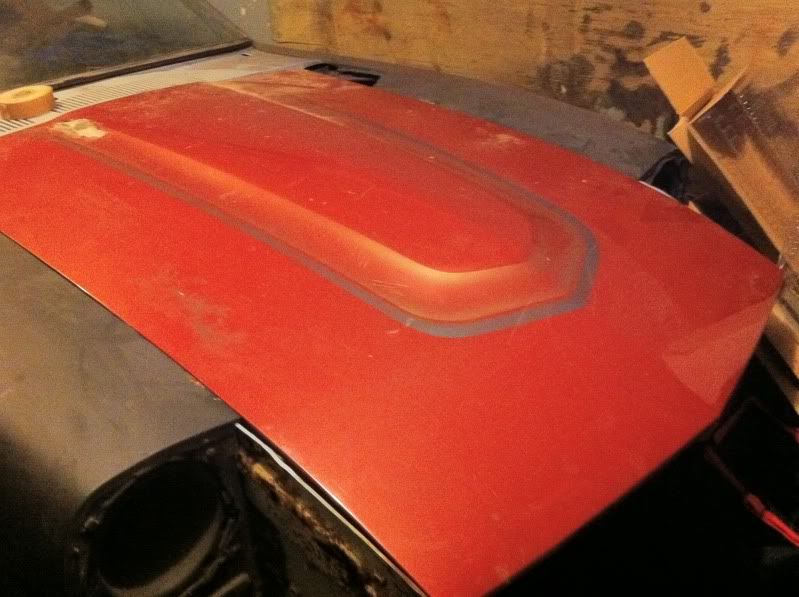 Then I got to work on the front half of the rotisserie - s'all done. The rear half will be done up on Tuesday.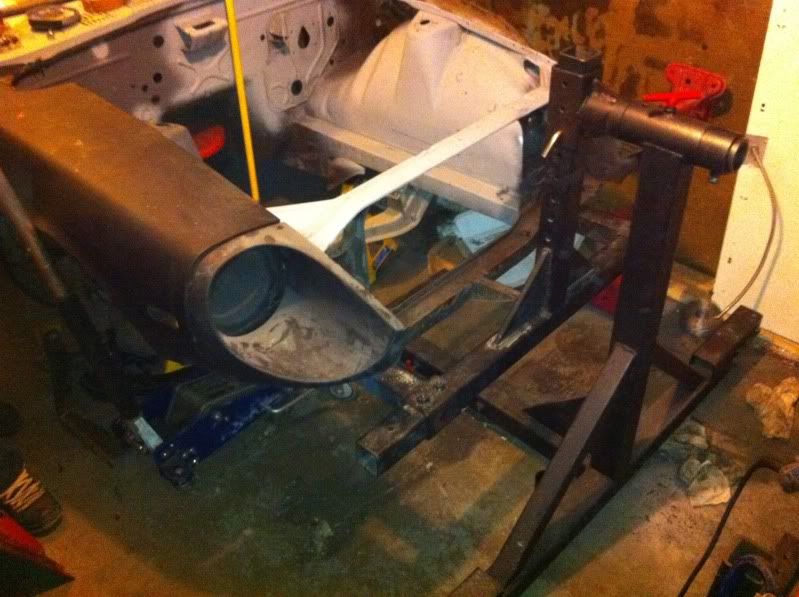 Soo Tim is pretty good at photochop and made this for me.
I'm a fan. This will happen + spoiler + black window trim - headlight covers.
Joe came over last night and we talked about expensive things..
1) 4-6 point cage, X bar tied into the rear R34 Subframe mount, 2 to strut towers, harness bars across. Tucked to cnt-hairs width from the roof and sides.
2) R34 rear subframe mount.
3) Fender brace that runs along the dogleg and around tucked to upper rad support and back around the other side (Beginnings of a tube front end).
Cage looks a lot like this..
And rear subframe mounted alot like this:
PIG ROAST!!
Finally got off my ass and finished the rotisserie.
Rear welds are fairly solid.
Need to bolt the arms to the T-bar before I try spinning it lol.
For those who care.
Almost *THEORETICALLY* have it figured out how to rock a fully counterweighted crank in a KA block with KA piston.
Rod is out of a Ford 5.4 Modular Motor, longer rod than a KA by about 5mm. Bushings need to be drilled out or replaced, or the KA piston needs a 22mm pin instead of it's 21mm. Crankshaft is a L20B/Z20E/Z20S U60 casting.
The other options I have listed include a Toyota Celica 20R 90mm Piston with various rods that will work - LS1, Viper V10, Ford w/ Chevy Pin, but I would like to try it with the KA piston first.
Braaap.
In due time, after some paychecks, I'll make this happen and post up how it is.
Had an hour or so to work on er tonight..
Also had a package come in the mail. I <3 when that happens. Todays xmas present was a Q45 90mm throttle body+tps (thx godrifttoday)
Couple of comparison shots with a stock KA ~60mm tb..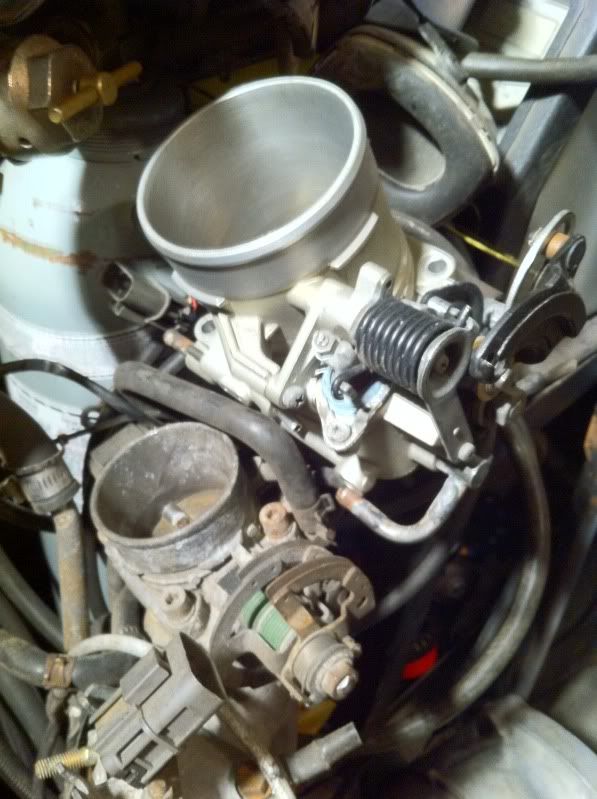 Bolted er up.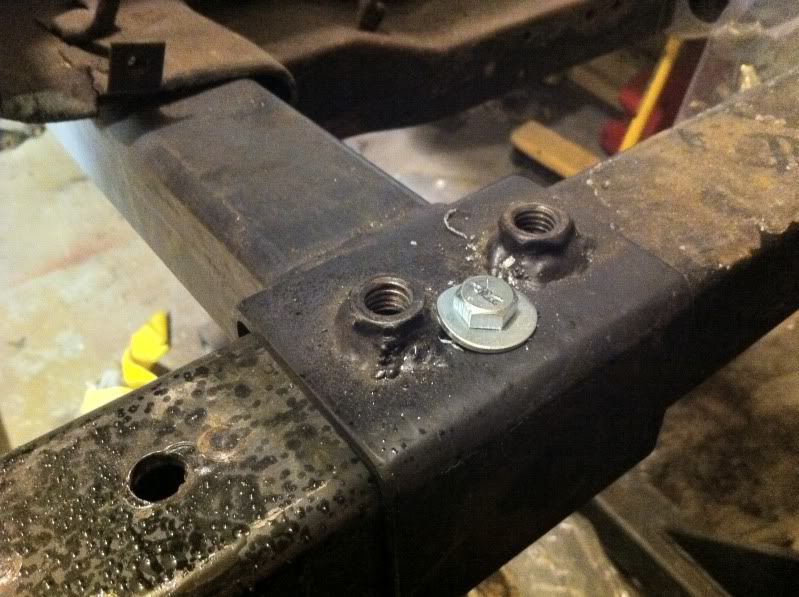 Spun er right round.
Primered er up.
Including my freshly blasted subframe..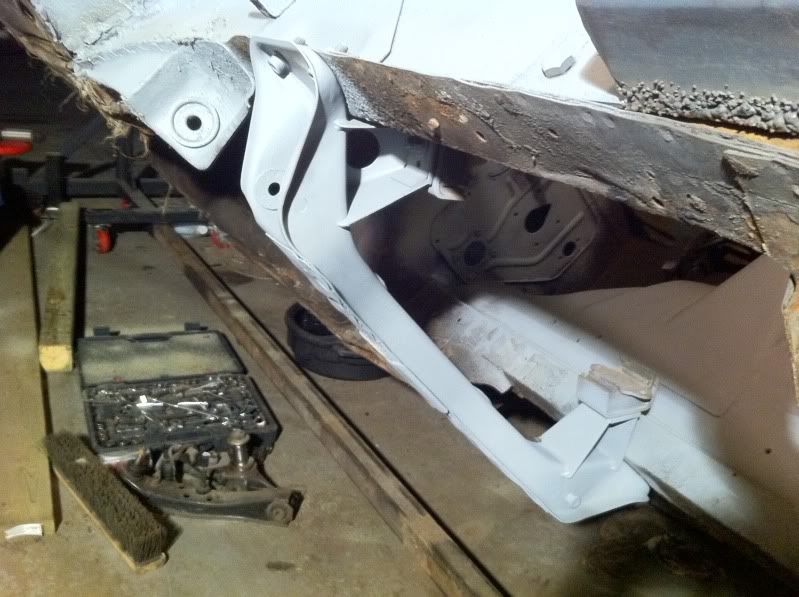 Most productive hour of my day
Had a few hours to work on the Z (I need a good name for her)..
Started with one of these..
Drilled a crapload of holes..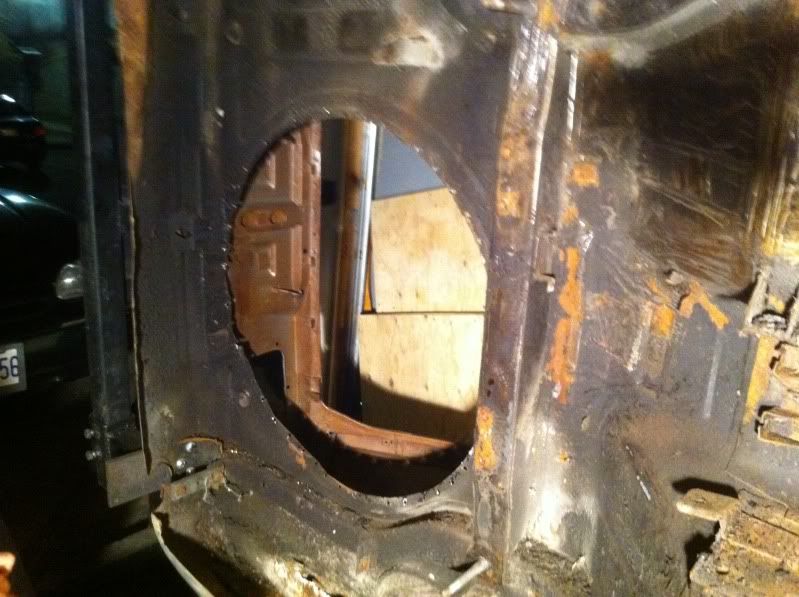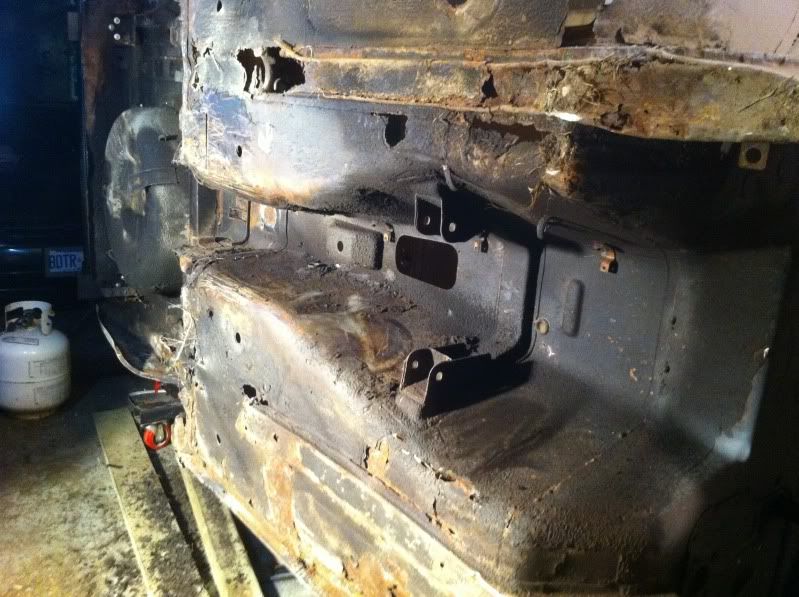 Cleaned the bish.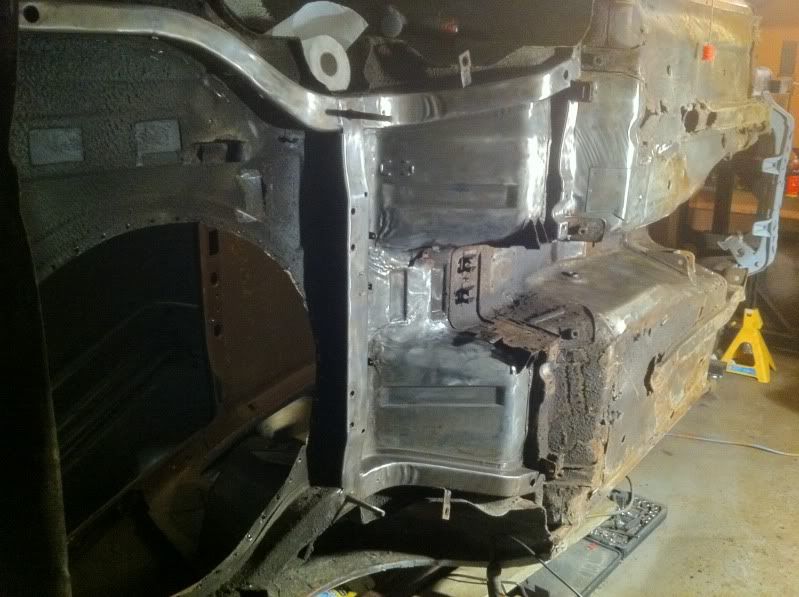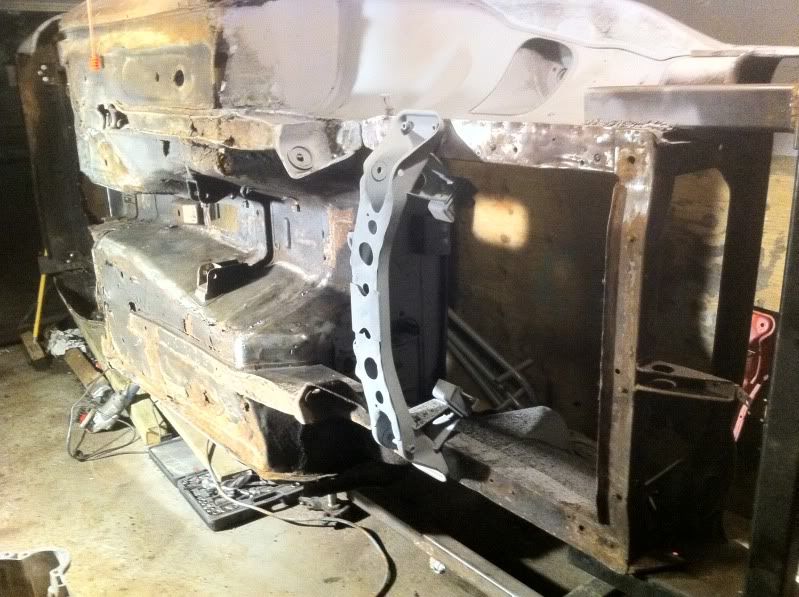 Primed a bit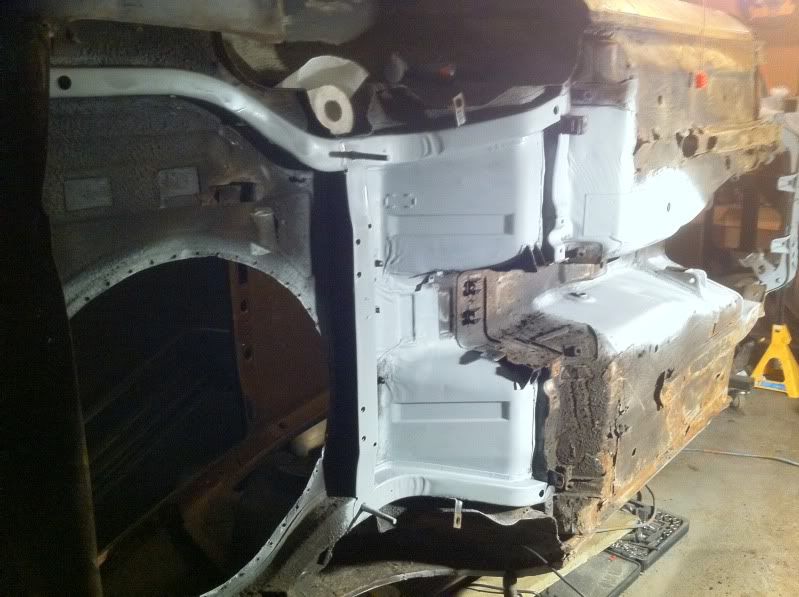 Also, bought one of these to complete my modernized suspension - JDM S14 swaybar 27mm w/ JDM S14 TC brackets. Also doubles as a rad mount and I can now order S14 sizes with install ease.. Not bad for $45 lol.
Might work on er again tonight and see how far I gets
Sorry for the delay boys..
My co-op term ended so I took the gf to Santa Maria, Cuba to celebrate. Things got silly and we had drinking team tshirts made up for the group lol.
Did a bit more cleaning up on the underside the day I got back.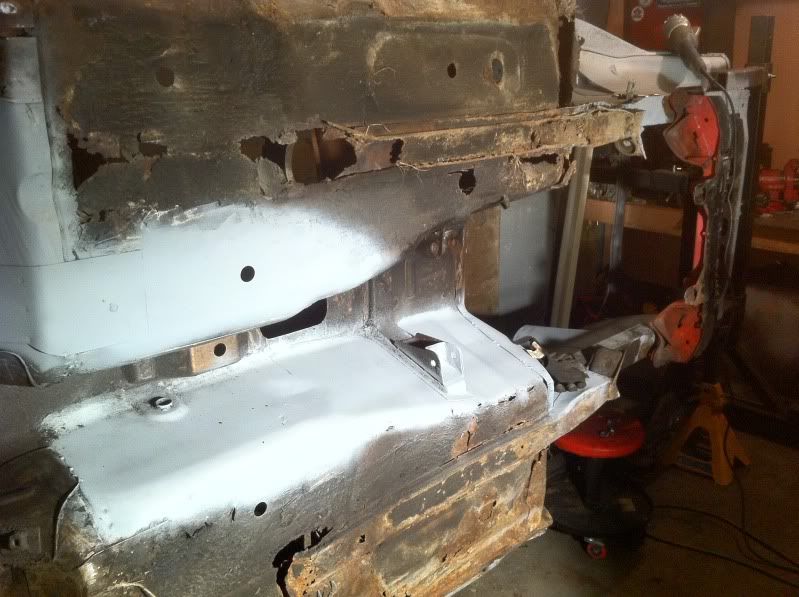 Started on the passenger side.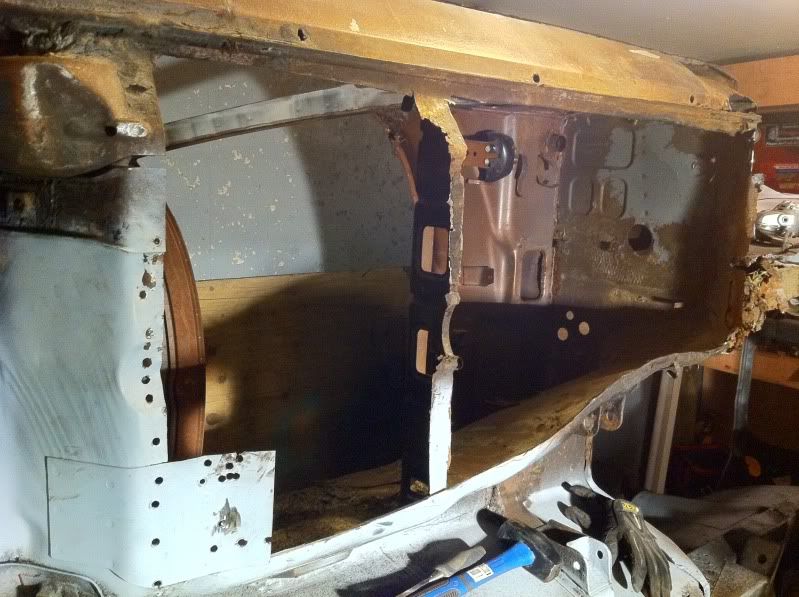 Made plans to have some guys come over and get both floors done on Monday night. Monday morning on the way to work going about 80 clicks down a street, this happened. I had to countersteer and the jeep was on about a 20 degree angle while going straight down the road. Scary ****.
Insurance doesn't cover mechanical failures. Ghey. Tuesday morning picked this up from my buddy JP for a good deal - should be a fairly sick daily.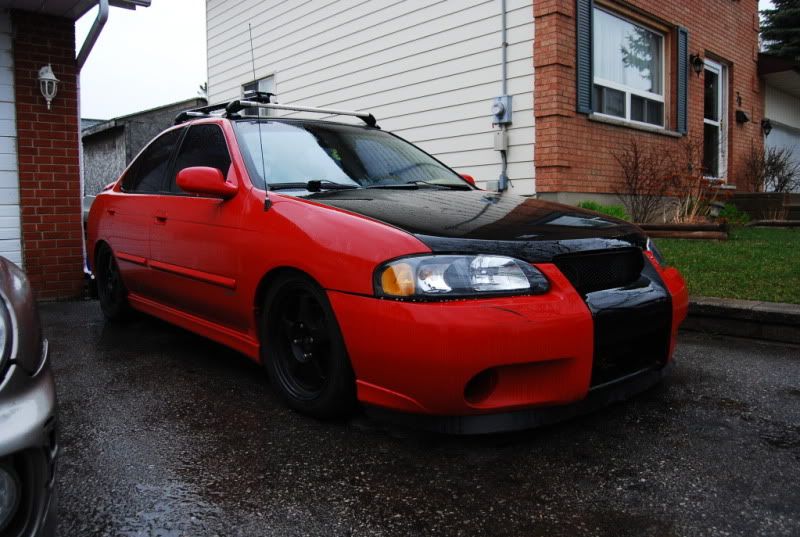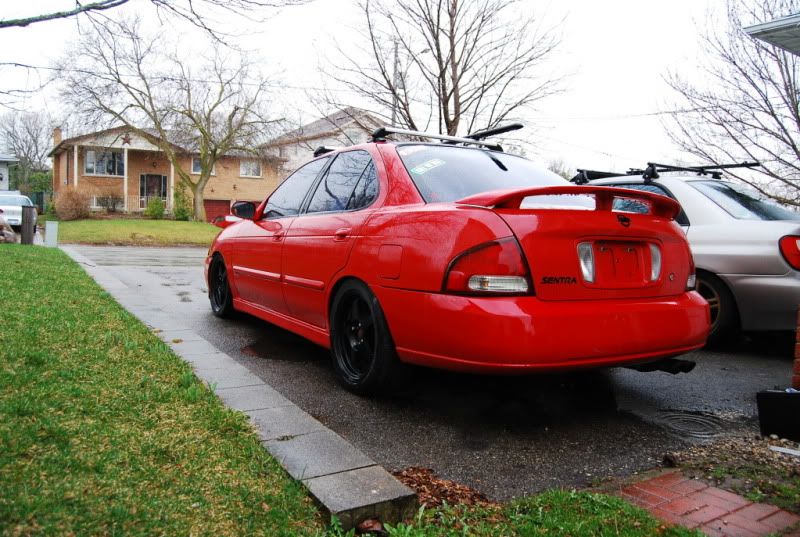 2002 Sentra SE-R Spec V
6 speed, LSD, bunch of new ****.
Ksport Kontrol pro coilovers. Height and preload adjustable, and 32 way dampening adjustable, with camber plates with pillow ball mounts.
Jim Wolf balance shaft removal kit
Stillen Intake
XS-Power header
BC cams
Rota slipstream wheels, with 225/45/16 kdws on the back (90% tread) and 215/45/16 rt 615's on the front
Nismo lower tie bar
Kenwood deck with Ipod
OEM nissan roof racks with back rack, and snowboard attachments
Magnaflow catback exhaust
Vibrant flat black muffler
Exams are almost done so I got antsy.. ZEDD Findings Floorpans took soo much work to fit, I was mildly ticked.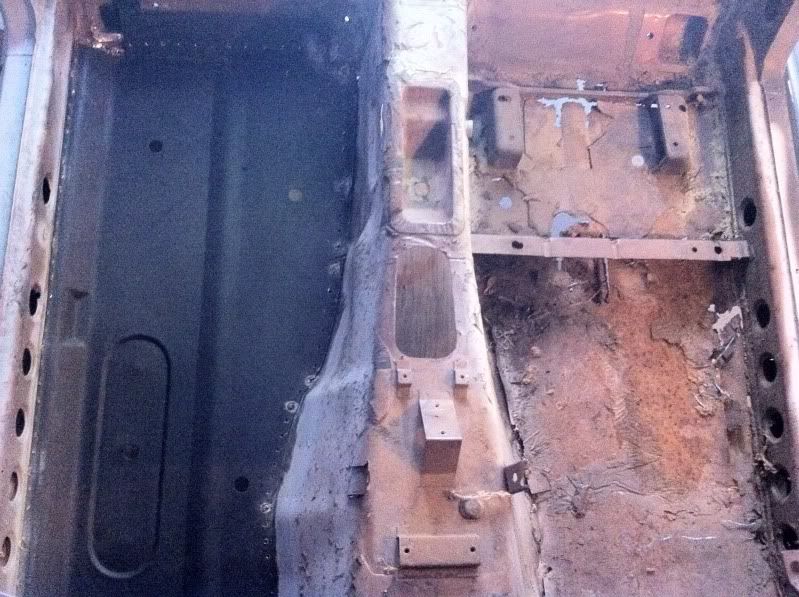 Mocked up Sentra front coilover, S14 arm + spindle - Time to order some HSD S13 coilovers and make some camber plates.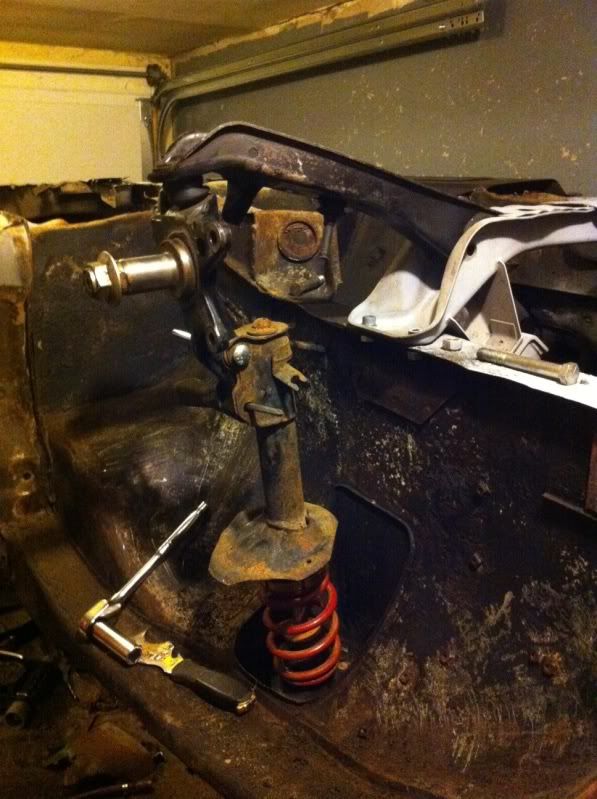 Cleaned up drivers side front well tonight - 3 more nights of working like this and the car will be entirely primed
Got to cuttin and cleanin last night, got some fittin and weldin tonight.
Car is going to Adam's place Thursday night to start work on the frame rails, R34 subframe mount, camber plates and possibly a cage, so I got the entire car primed. Floors are only tacked in as they are coming back out to weld in the rear subframe mounts.
Woohoo - best update so far
She's in Barrie for the next while getting **** done.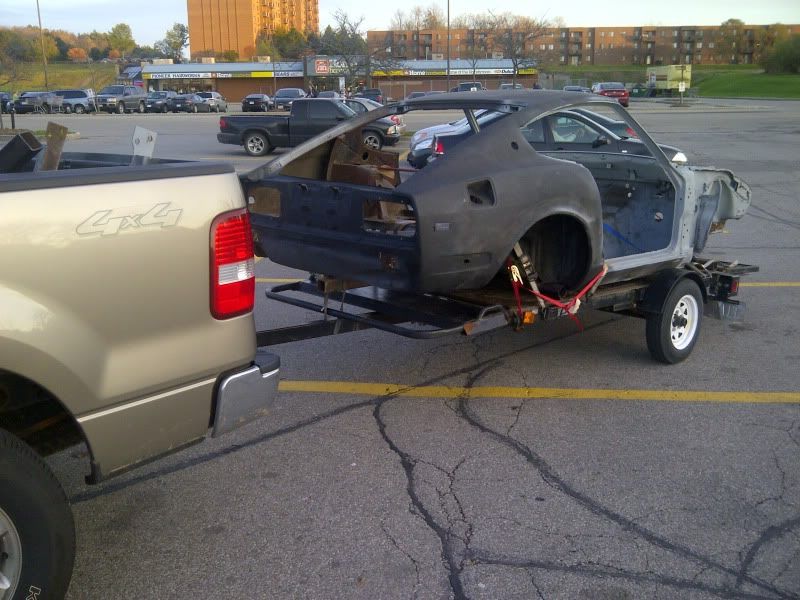 Been super excited to get the Z back from Adam so I thought I'd try my hand at Photochop.
Never used any sort of image editing software and this was done on free Paint.net program so it's by no means good but it's a decent idea what I'm going for..
Going up on Wednesday so I'll snap some pics of updates..
Also, how the car was about a month ago for comparison..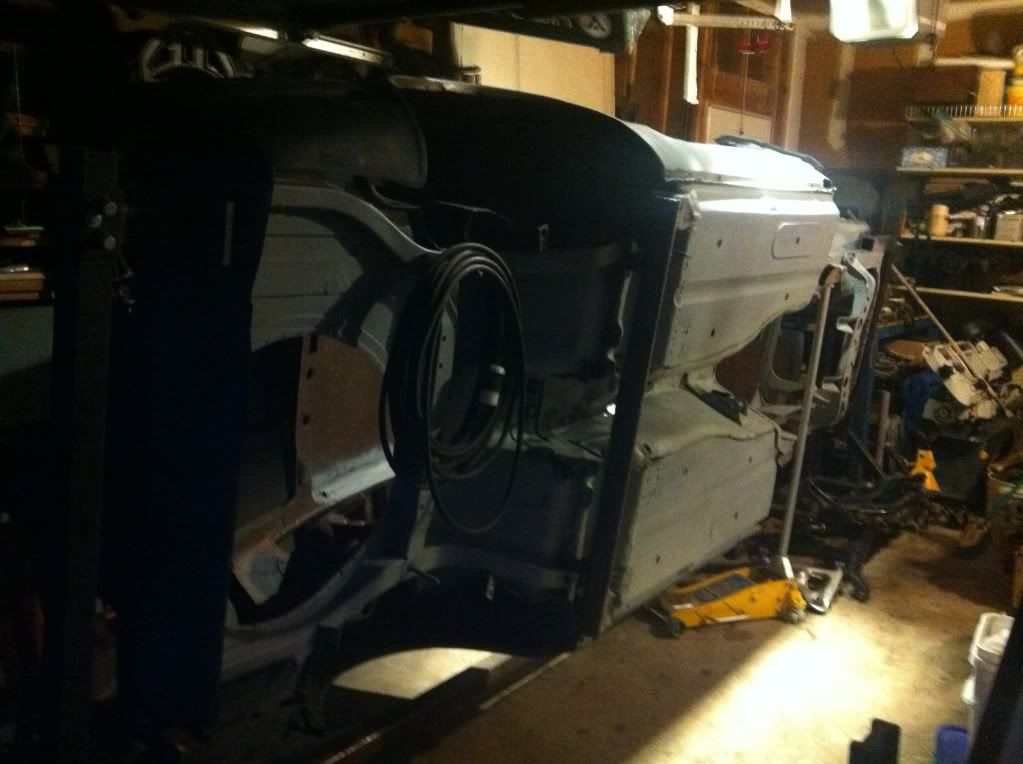 Food for thought..
Thanks to my buddy Matt for laser-cutting these at work
MOD LIST
(Updated 10/23/11)
ENGINE/TRANSMISSION
HAVE
- S14 KA24DE
- Z33 6MT Transmission w/ CNC VQ35 shifter linkage
- Brian Crower Cams Stage 2
- TII FC3S 550cc top mount injectors
- Aeromotive A1000 Fuel Pump, Regulator, 100 micron filter, all black Nylon braided lines/AN fittings.
- Taurus 3.8 E-Fan
- KA-E parts req'd for PS Delete.
- Q45 90mm throttle body + TPS
NEED
- Head port/polish work done by me, decked, tanked
- L20B FCW Crankshaft
- VQ35 Tranny adaptor CNC designed/milled by me
- Block bored +0.020, decked, hottanked
- Pauter Rods for Ford 5.4 Modular Motor
- Wiseco 10.5CR 0.040 Oversize Pistons
- Gato Performance Intake Manifold
- Ferrea overbore intake and exhaust valves
- Ferrea titanium dual spring/retainer
- AEM EMS w/ 72" race harness OR Haltech Platinum Sport 1000 OR Megasquirt III - Debating...
- Koyo/Mishimoto S14 Rad
- Cometic MLS HG or Cosworth.
- KA Starter
- Full Race/AMS turbo mani & Downpipe.
- Machine work - polish and bullnose crank
CHASSIS/SUSPENSION/BRAKES
HAVE
- R33 GTR Depowered Steering Rack
- S14 steering column
- S14 Front Subframe (Sandblasted)
- S14 FLCA, Spindles
- JDM S14 Swaybar
- JDM S14 TC Buckets
- S30 Front Subframe (Sandblasted)
- R34 GTR rear subframe w/ axles, multilink & 5 lug hubs
- Nismo GTR RLCA
- 3.538 Q45 VLSD, Z32TT Axle & big spline 5 Lug rear hubs.
NEED
- Z32 Rear Brake Setup
- S14 front hubs with ARP Studs
- Custom 1 piece driveshaft
- STI/Evo 8 Brakes or GTR33 Brakes
- Tilton pedal setup with internally hung brake and clutch masters
- Poly bushing set
- Cage
- CNC Hydro Ebrake
EXTERIOR
HAVE
- OEM Hood, doors, hatch, all glass, trim and lights.
- ZEDD Findings Floor Kit
- ZEDD Findings Front Frame Rail Kit
- Custom 3"x3" front frame rails and rad support.
- Custom 1"x3" mid section frame rails
- Custom R34 GTR rear subframe mount
- Custom laser-cut S30/S13 coilover camber plates.
NEED
- Fiberglass S30 "Superwide" ZG Flares (Needed the wides to tuck the +150mm track of the GTR subframe and +120mm track of S14 arms)
- Fabricate LED tails, HID headlights
- BRE Spoiler
- 17"x10 rear, 17x9 front CCW Classics
OR 17"x9.5" Rota Grids Matte Bronze
- Paint - will be sprayed by me, GF bought me a sick paint setup
love you.
INTERIOR
HAVE
- 72' 240Z Professionally Restored Dash
- S30 FG Dash first layer done, no longer using if someone wants it.
- NRG Evo Black Steering Wheel
NEED
- Recaro seats & sliders.
- Black molded S30 carpet
- Carputer setup w/ EMS control.
Most importantly, you have to have the gf who puts up with all your car addiction bs