I finally fixed a major issue that's been driving me crazy for a long time now. Ever since I have had the supercharger on it, I have been dealing with fluctuating AFR's at cruise, accompanied by surging and bucking. It is
extremely
annoying. After fixing lots of little boost leaks, it was still doing it. I even bought a brand new, OEM N62 MAF, and it still did it.
So, my air filter and MAF are located in front of the passenger wheel, with a protective scoop behind it.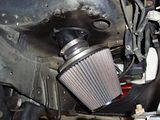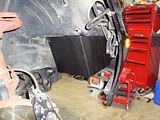 For a while now, I have wondered if the filter placement with the "scoop" behind it could somehow be causing MAF turbulence and causing this surging issue. So I finally decided to test that theory and made a quick and easy shield for the front of it with a sheet of aluminum. I zip tied it in place went for a drive, and it was 100% better. No more surging and bucking, and cruise AFR's are much steadier. It drives like a normal car now for the first time in a LONG time.
I've finally been able to lean the car out to 14.7 AFR at cruise and idle, which I could never do before. It was always closer to 13:1 because that's the only way it would run smooth. I've had more tuning success in the past week than I have had in the past year. It's running great right now, and there's still a lot left in the tune.