Very long story short, this car belonged to one of my best friends, had been down since 2009 after blowing multiple turbos and getting burned on a lot of deals in the process of him trying to get it running. It sat for several years till almost getting completed in the end of 2014. My friend and I were sitting at Green Turtle (for those of you who have been to MD or Ocean City may know the chain of them that opened) after another failed attempt to get the car started at the shop he left it to be finished at and he was browsing on eBay and essentially said "screw it im buying a FD" and looked at me, told me I was buying the S14 from him...
I bought the car, despite being in a bit of a financial struggle my self as all the work at the machine shop I was at had pretty much dried up. I towed the car home in October from the shop he had it at after he paid up his bill and brought his RX7 in to get a once over there.
How it sat for a while:
Ended up putting it under a tarp for a bit while I dealt with other parts of life till I could come back to it. Changed jobs and blew up my daily so I had to get a new vehicle and recoup the down payment I put on that.
Fitted some BC coilovers and sold off the Tein Flex's that were on it
Also found that my subframe bushings were completely destroyed so went ahead and ordered up some PBM subframe raisers. But first, FIRE!
Moved in with my girlfriend and we moved twice in 6 months. The 2nd move I was able to bring my car out of storage from my parents and bring it to the house where I washed it off and pulled the engine.
Scored a Navan bumper for the car when I had bought it and picked up a new JDM rear bumper from work for cheap.
Engine out of the car:
Now the fun bit of this car... I was told this was supposedly a engine built with CP Pistons, Eagle rods, and that my friend had BC Springs & retainers in it when he did cams.
Well when I pulled the engine from the car, getting it ready to take to the machine shop, I discovered.... Thats no Eagle rod....
Truck loaded up with short block, head, and front cover to drop off the MBR for a look over and see what we needed.
Fast forward a few months as my buddies machine shop was absolutely slammed and I was not in any rush to deal with the engine as I moved AGAIN, this time into an apartment with a small 1 car garage with my girlfriend and one of our other roommates who is building his J35 swapped Integra.
Cliffs; MBR got engine apart, all of the bearings showed signs of severe wear, the piston/rod combo was definitely not CP/Eagle, it is Ross/Pauter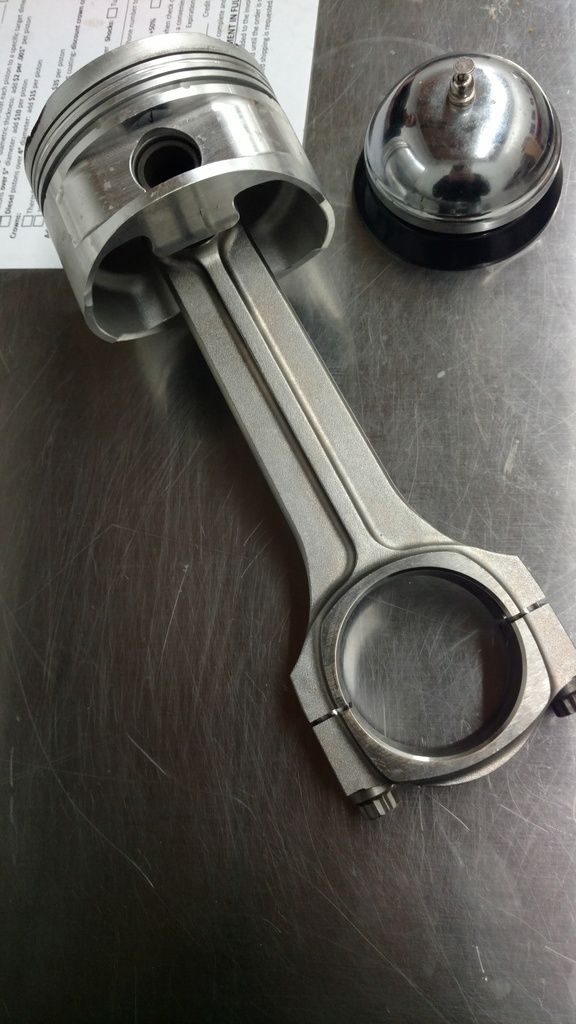 Pistons did show some skirt wear from piston slap, looked like previous shop got a little too big on the bore diameter. Called up Ross and they recommended to send the pistons to Line2Line Coatings for their clearance control coating, so off they went and a week later I had pistons back.
We were joking that day about just going over the top since we were already going from the 10mm factory diameter studs to 12mm RB26 studs, that we should just O-Ring the block while we were in there. Well, that joke became reality real fast... This is before the final honing of the cylinders
While the machine shop was going over fine tooth details before assembly, I brought them the missing piece to this puzzle. Cosworth headgasket
Engine all assembled and wrapped up:
Ross (89.5mm bore 8.5:1 comp) pistons w/ Total Seal rings & L2L skirt coating
Pauter X-Beam rods
King XP Series Main and Rod bearings
Cosworth Headgasket
ARP RB26 Head Studs
ARP Main Studs
Kelford B cams w/ BC Springs and retainers
JWT Cam Gears
Will update with the rest through the up coming week and as more progress is made.