December 1 2008
Yo yo whats up. I wanted to put together a build thread, that hopefully others can gain from down the road, and ill have a place to gather what ive done. And most of all get suggestions and even some positive critism, b/c this is my first turbo project, so it's all a learning experience to me.
Edited this in:
stock 95 KA with 116k, owned since 71k
GT3251E .60 compressor and .63 exh. 52trim comp. wheel & 72 trim turbine wheel (now hy35)
Tial WG
ETD mani
Fizzy's DP full 3", i added a bung for my dwn stream sensor and a slash cut pipe for (THIS WAS CHANGED)
pcv setup (changed to VTA)
N1 duals
tomei 740's
CalumRT ECU
innovate lc1 xd16 WB
some sort of a EBC planning on running 12-14 (went TRu Boost)
oil press temp and coolant temp gauges (stri dsd)
1g DSM BOV recircd
draw through n62
cx racing fmic
koyo cuz it was cheap
alt fans b/c the shroud was a whore to fit up.
oil cooler in my future
on with the pictures
naturally i started at the manifold/turbo mock up. this is maybe a month or two old, but starting from the beginning:
S14 abs booster and gt32 with 4bolt and .63
the etd website shows a totally diffrent story with a 5bolt housing in a s13
so then i got a s13 5 spd booster
next problem was the AC line. i was lucky enough to aquire fiznats DP and manifold, but hadent accounted for the diffrent boosters, diffrent exit points of the brake lines and him not having AC.
wouldnt bolt up to the turbo b/c the ac line.
so.....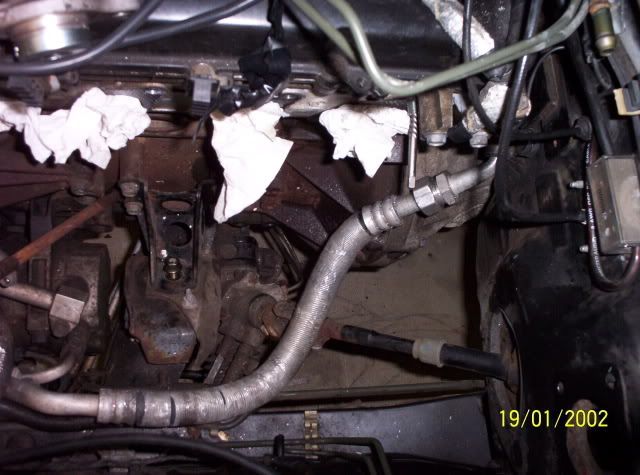 no pry bars were hurt in the making of this "custom" ac line.
worked well......i just made a little adaptor plate to hold the ac line to the fire wall in the original spot.
clearences were still sketchy
i ended up finding a S14 non abs 5 spd booster...the slimest one and that helped maby another 1" or so. im racing the snow here so i just want to get it running, play with the calum ecu a bit and put her away till spring. so i plan on Banjo SS lines and or a RHD master. but i need a 1" or 17/16" one so i wasnt having to much luck as most are outta silvias.
got all my gaskets cut on our lazer to save a dolla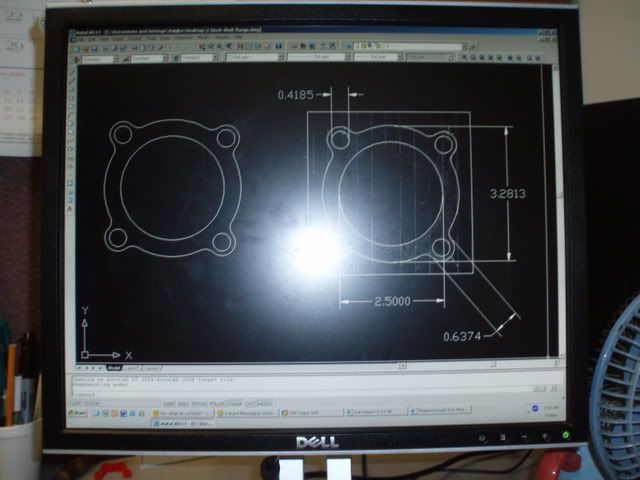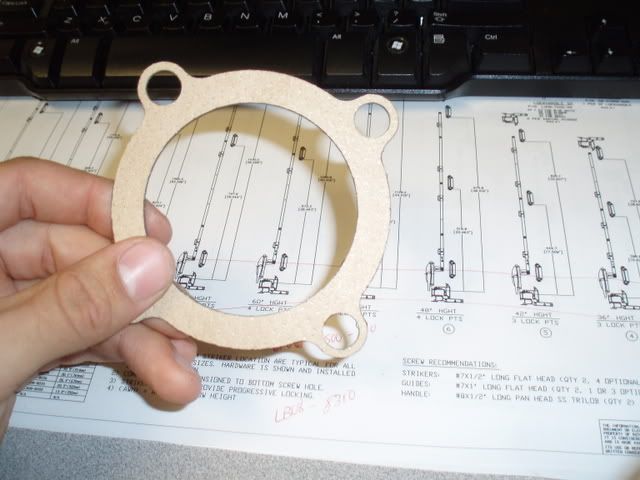 made one of these at work
hummm.... next problem was how i needed to clock the turbo wasnt possible b/c a comp. bolt. hitting the AN return fitting.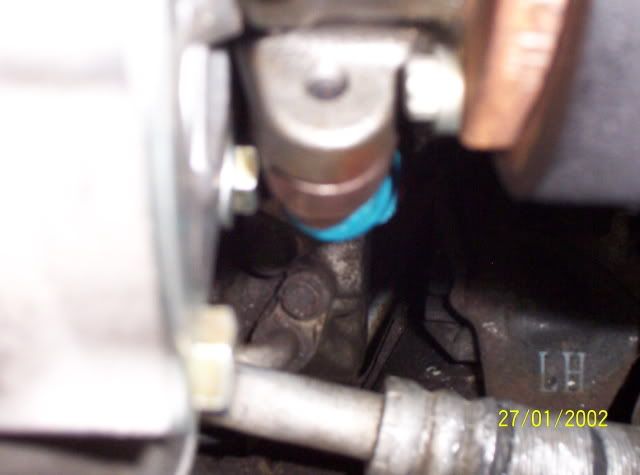 so i measured my clearence with the AN tighened with a flat side parallel to the bolt head, an had about 2.75 mm. so i ground the bolt down to that thickness and made a 12mm wrench outta 2.5mm steel. worked great.
so now i needed to modify the cx racing hot pipe. i cut the 2" elbow off, and roughly 2" of straight 2" section and welded the elbow back on at the appropriate angle. im no pro at welding and started learning when i started the project to help. any way they hold and will look great when painted black.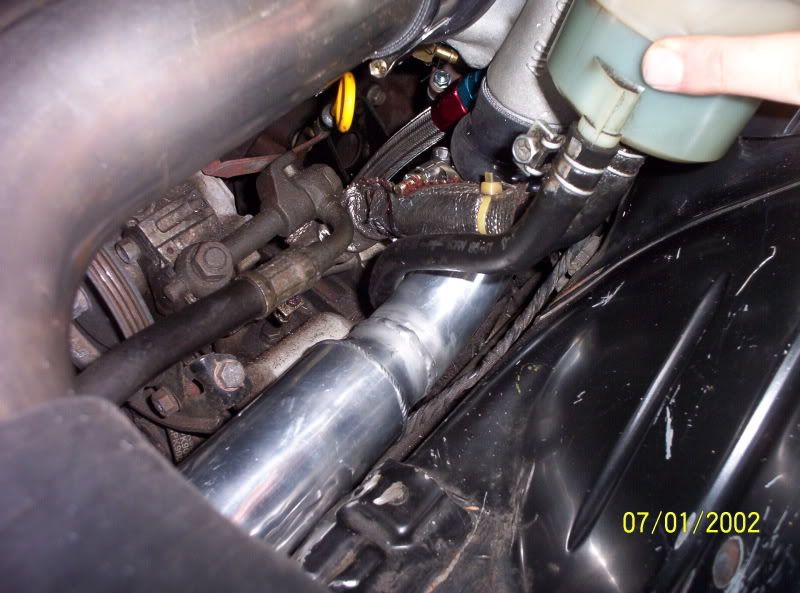 Pan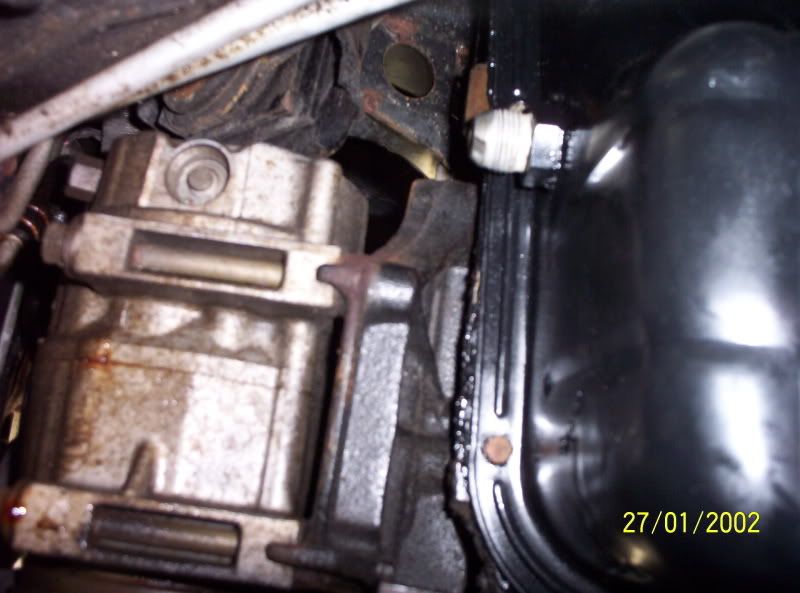 some fun stuff inbetween
heres how i did the bumper support.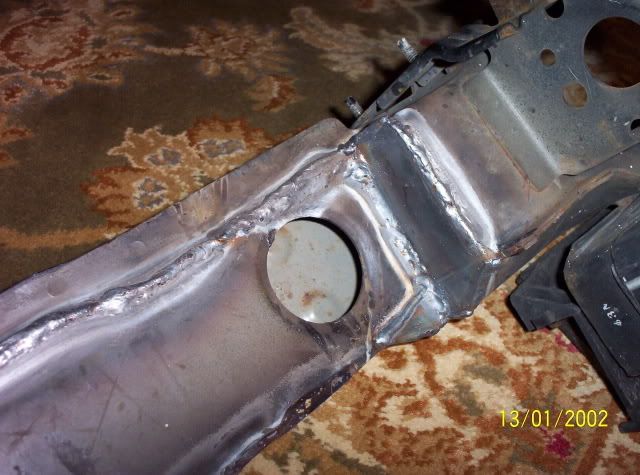 felt just as strong as b4
im all about the sleeper status, so my goal was to keep the fogs and i was also hoping to leave the washer rez.
sucess
fits nice on the cold side
for the hot side
i just cut the elbow off and got a 45* elbow and it should connect up nice, couplers in the mail. my welds appearence wernt super pretty so i figured the less the better.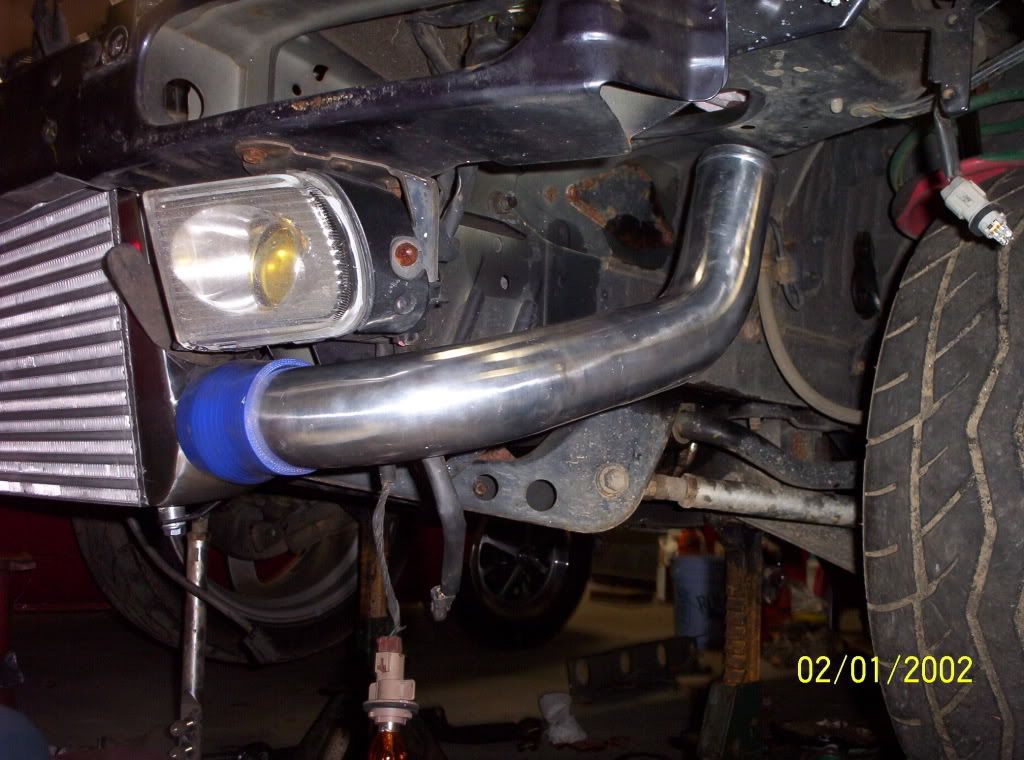 i got a 36$ thermo tec turbo blanket kit from summit.. i def reccomend it. they give you tons of material, u could make 4 of them. so i had plenty for elsewhere.
mani shot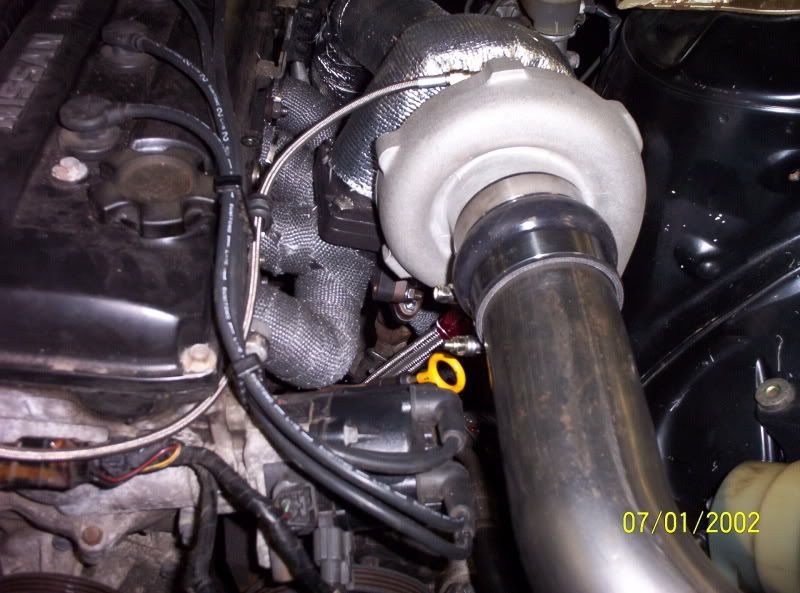 tha bay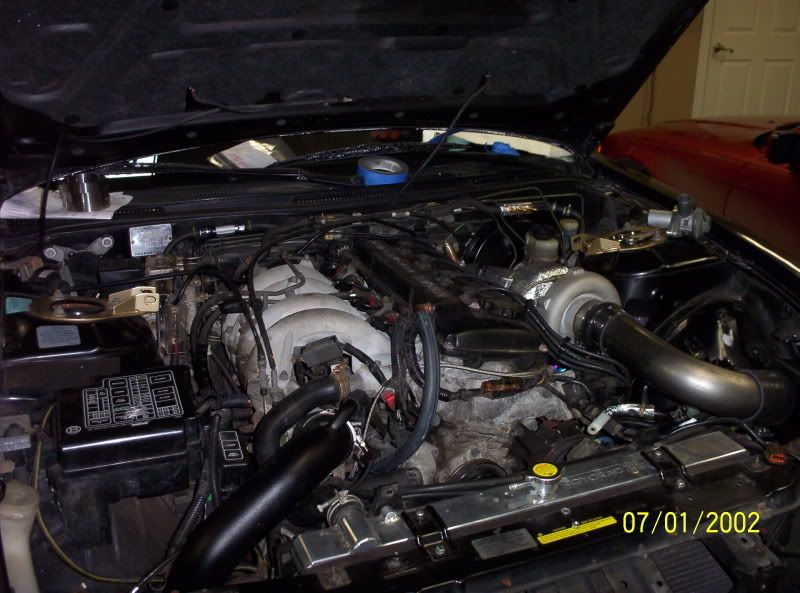 i made a maf adaptor and just went with a 90* right off the bat to avoid idle issues. and yes, kept the charcol canister....ct emissions.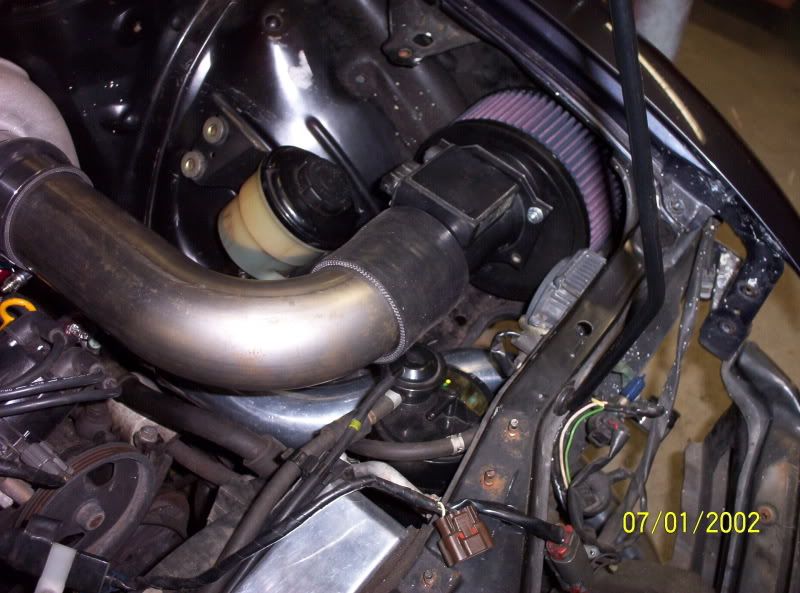 still to.......
weld 1g DMS flange to hot pipe and recirc tube to intake.
need to decide if i want my VC going into my PCV setup or an open breather.
oh yeah heres how i did my PCV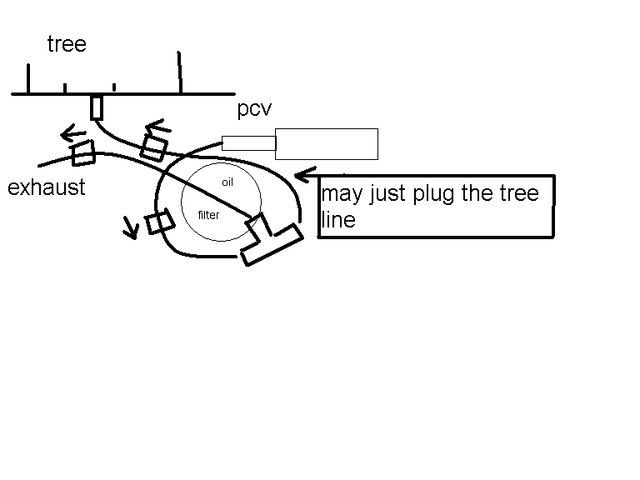 wire up relay for second altima fan. going to be running them with the AC map through tunerpro.
wire up
n62
Fuel pump
innovate WB
STri oil press, oil temp. coolant temp.
need to decide between profec and tru boost still and wire that up as well.
decide if i wanna do the greddy t stat sandwich and oil cooler set up, or just get a 3 port sandwich for right now.
install calumsult ecu
fluids
.....and hope to god she starts.