So, after buying this car 9 years ago with the intention of boosting it, I'm finally getting around to it. I bought her when she was just a baby with only 49,000 miles.
The car is pretty much finished as I post this, but unfortunately some issues with one of my Deatschwerks injectors has put everything on hold. So, I figured I would do a build thread.
Here's the setup:
-Thomas Knight supercharger kit purchased from Simon (blacks13coupe)
-M62 supercharger also from Simon. (Was rebuilt around 10,000 miles ago.)
-550cc DW injectors
-80mm throttle body with 3 inch intake piping for the whole setup
-Modified OBX 4-1 header to replace my rusting Hotshot
-Pulleyboys 2.5" supercharger pulley
-Walbro 255
-Skullworks oil relocation adapter with braided stainless lines and fittings. Filter mount from Transdapt.
Here is what is already done to the car as far as the motor/drivetrain go:
Motor
-Stock bottom end KA with almost 140K on it
-JWT S1 cams and cam gears (I re-degreed them during this install, setting the centerlines to the cam card)
-S13 Nistune ECU w/ home made conv harness
-RSR Exmag exhaust (80mm)
-Hot shot header and 3" test pipe (header is being replaced)
-N62 MAF
-LC1 wideband
-Knock light
-Koyo radiator
-Ford Taurus fan (with only the low speed hooked up)
-Nissan quest 110 amp alternator
-Magnecor 8.5mm plug wires
Drivetrain (all parts have around 4000 miles on them):
-RPS Max street clutch rated to 400wtq (used with re-surfaced stock flywheel)
-B&M short shifter
-Shaftmasters one-piece steel driveshaft
-new clutch master cyl, stainless braided line, dampener removed, etc.
-S15 HLSD with 4.6 ring and pinion
Brakes are 300zx on all 4 corners with working e-brake and R32 e-brake cables, and 300zx MC.
Suspension consists of Eibach Sportlines with KYB AGX, SPL RUCA's and front tension rods. I'm running the 7 spoke 350Z wheels (17") with Dunlop Direzza Star Specs 225/45 front and 245/40 rear.
Here's a shot of the motor before we touched anything: (What a mess!!!!!)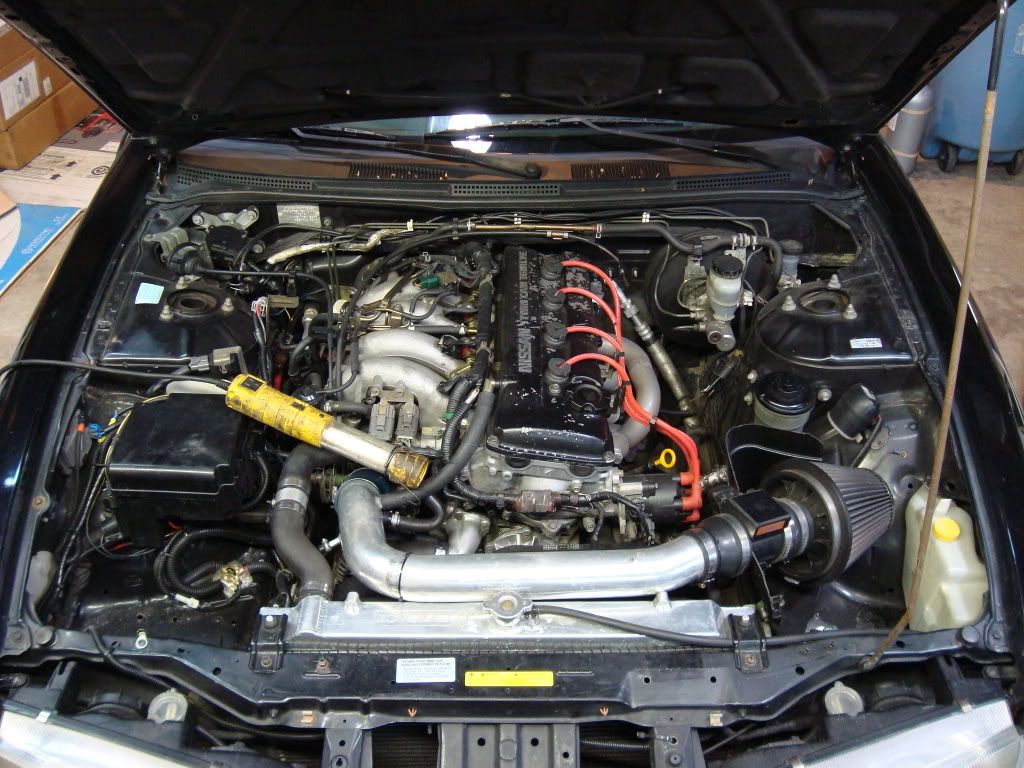 First thing we started on was the header. My Hotshot header is rusting pretty badly near the bottom. The metal is actually peeling off in layers at the bottom: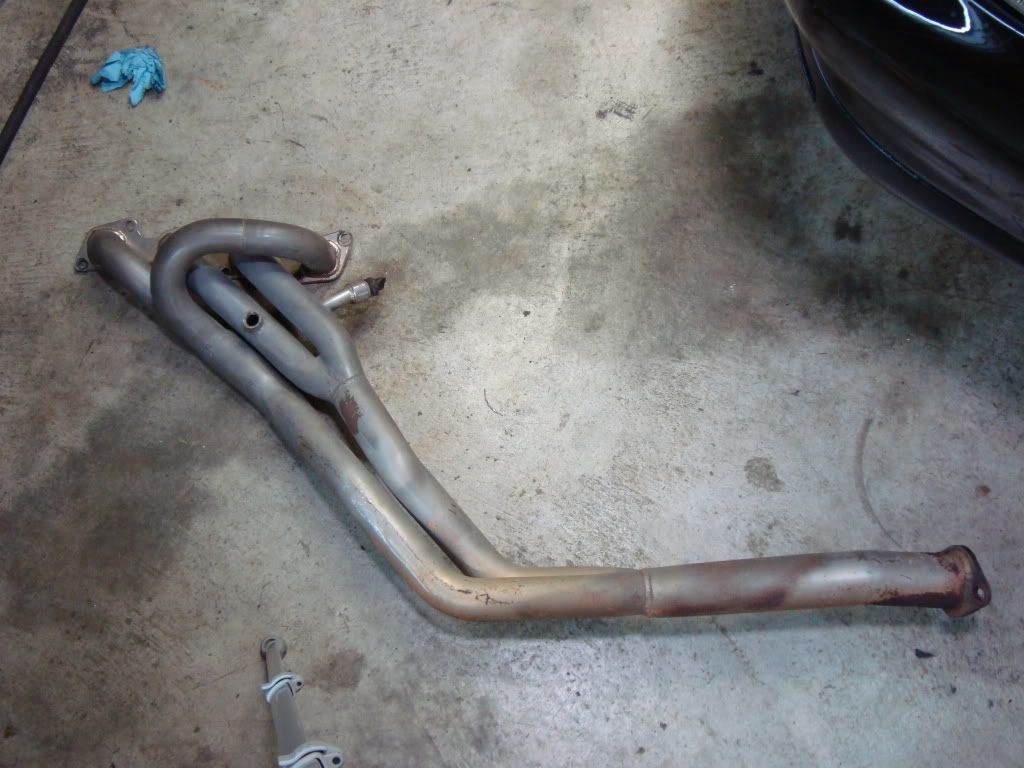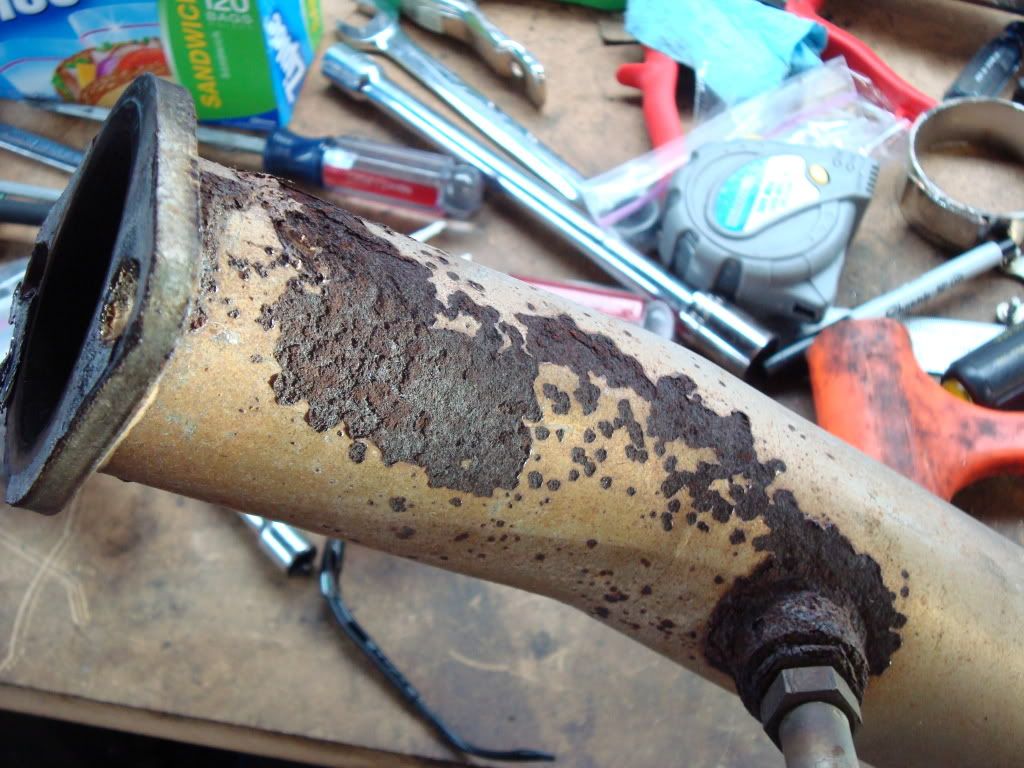 To replace the header, I bought a OBX 4-1 off of ebay. In addition to the header, I bought two 3" ebay test pipes. I needed the 3 inch piping for the header, and at least one flange to bolt to the test pipe already connected to the exhaust.
Here's the header more or less how it comes from OBX. The flange that joins the two pieces has been cut off in this pic, but you get the idea. That mid-pipe piece is only 1.8" ID, which is barely any bigger than the 1.5" primaries. Weak…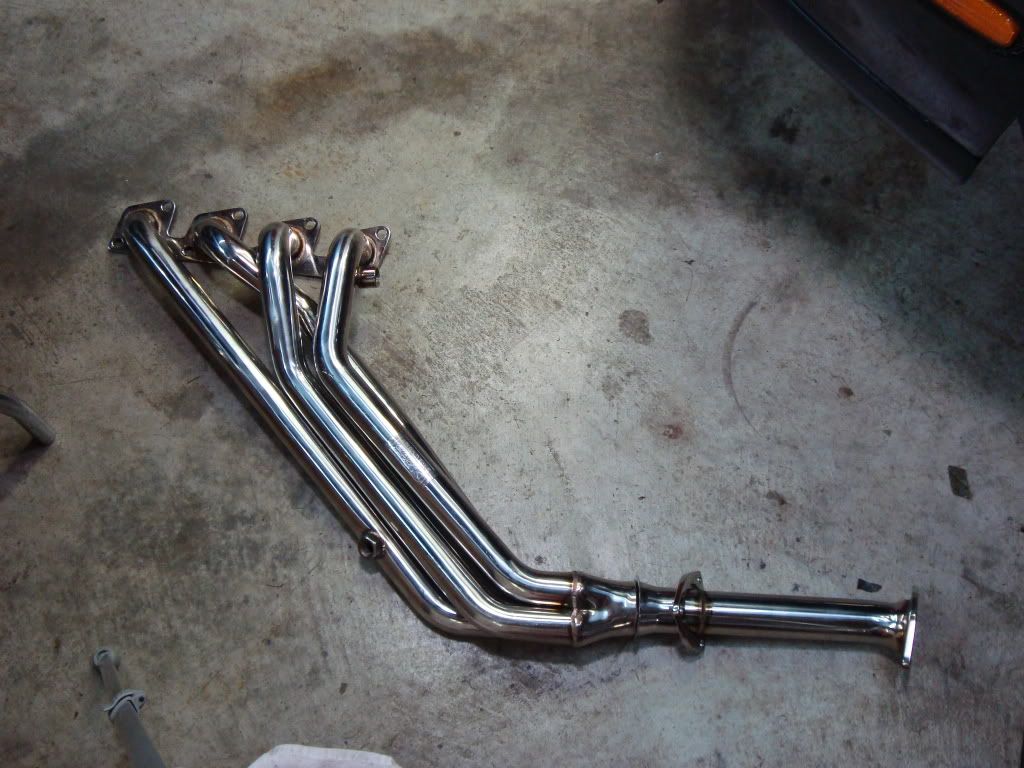 After cutting the flange off, we started on port-matching it, because it really needed it. Here's my friend Tom doing the port matching: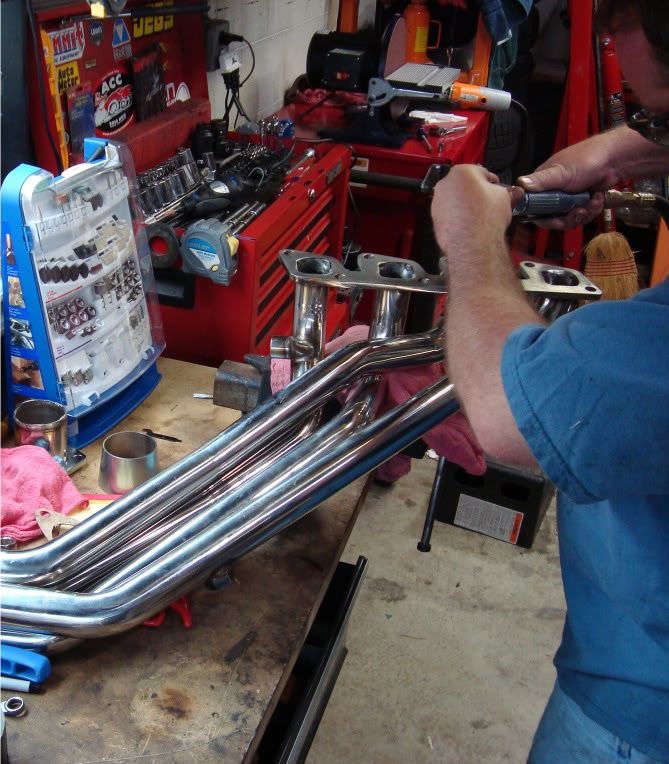 After several days worth of cutting, grinding, test fitting, and welding, this was the result: (Ignore the red power cable. That has been re-run through the interior.)
Here is the finished header next to the old Hotshot: